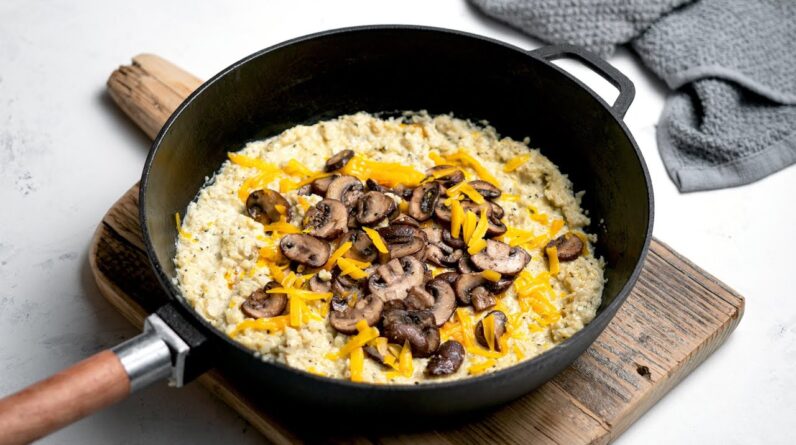 This post may contain affiliate links which means I may receive a commission for purchases made through links.  Learn more on my Private Policy page.
Looking for a delicious low-carb breakfast option that will leave you feeling satisfied and ready to tackle the day? Look no further than our Keto Breakfast Grits recipe! Packed with savory flavors and healthy fats, this comforting dish is the perfect way to kickstart your morning while sticking to your dietary goals. So grab your spatula and get ready to whip up a hearty breakfast that's sure to become a new favorite!
Low-Carb Comfort Food Recipe: Delicious Keto Breakfast Grits
Introduction
Are you looking for a hearty breakfast dish that is both comforting and healthy? Look no further than this delicious recipe for keto breakfast grits! Made with cauliflower rice, hemp hearts, mushrooms, and cheddar cheese, this low-carb breakfast option is packed with flavor and nutrition. What's more, it takes less than 15 minutes to prepare! In this article, we'll take a closer look at this recipe, along with the nutrition breakdown and where to find more keto recipes, knowledge, and tips.
Recipe: Keto Breakfast Grits
Ingredients
2 cups cauliflower rice
1/2 cup hemp hearts
1 cup sliced mushrooms
1/2 cup shredded cheddar cheese
1/4 cup heavy cream
2 tablespoons butter
Salt and pepper to taste
Instructions
Heat the butter in a skillet over medium heat.
Add the cauliflower rice and hemp hearts, and cook until tender, stirring occasionally.
Add the sliced mushrooms and cook for an additional 2-3 minutes.
Stir in the cheddar cheese and heavy cream, and cook until the cheese is melted and the mixture is heated through.
Season with salt and pepper to taste.
Serve and enjoy!
Nutrition Breakdown
Each serving of these keto breakfast grits contains 484 calories, 43.1g fat, 8.1g net carbs, and 17.8g protein. With a high fat and protein content and low carbs, this dish is perfect for those following a ketogenic diet or looking to reduce their carb intake.
More Keto Recipes, Knowledge, and Tips
For more delicious and healthy keto recipes, be sure to visit the website ruled.me. This site is a treasure trove of information on the ketogenic diet, including a comprehensive guide, a 14-day diet plan, and social media pages to follow for daily inspiration and support. Whether you're new to the keto diet or are a seasoned pro, ruled.me has the tips, resources, and recipes you need to make this lifestyle work for you.
Conclusion
With its rich, comforting flavors and low-carb, high-fat content, this keto breakfast grits recipe is sure to become a staple in your morning routine. Whether you're looking to maintain or lose weight or simply want to enjoy a delicious and nutritious breakfast, this recipe has everything you need. And with the wealth of resources available on ruled.me, you'll have all the knowledge and support you need to make keto living a breeze.
FAQs
Are these keto breakfast grits dairy-free?
No, they contain cheddar cheese and heavy cream, which are dairy products.
How can I make this recipe vegan?
You can substitute the cheddar cheese and heavy cream with vegan alternatives, such as nutritional yeast and coconut cream.
Can I use regular rice instead of cauliflower rice?
No, regular rice is not a low-carb option and would not be suitable for those following a ketogenic diet.
Can I prepare these grits in advance?
Yes, you can prepare a batch of these grits and store them in the fridge for up to 3 days. When you're ready to eat, simply reheat in the microwave or on the stovetop.
Can I add other vegetables to this recipe?
Yes, feel free to experiment with different vegetables and seasonings to customize this dish to your taste preferences.