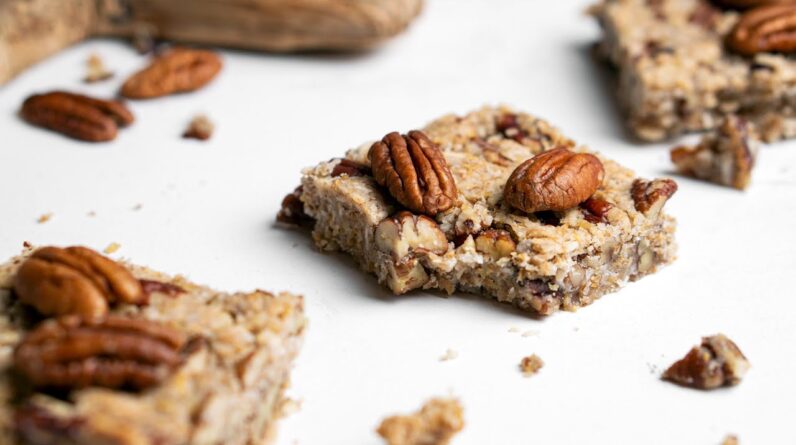 This post may contain affiliate links which means I may receive a commission for purchases made through links.  Learn more on my Private Policy page.
Learn how to make irresistible Keto Maple Pecan Fat Bomb Bars topped with homemade maple syrup. This low-carb treat is perfect for those following a ketogenic diet or anyone looking to indulge in a guilt-free snack. With just a few simple ingredients and easy-to-follow instructions, you can whip up a batch of these decadent bars that are sure to satisfy your sweet tooth without compromising your health goals. Follow along as we guide you through each step of the process and reveal the secret to creating a rich, nutty flavor without all the added sugar. Let's get started!
Introduction:
If you're looking for a quick and delicious keto snack that's packed with healthy fats, Maple Pecan Fat Bomb Bars are the perfect solution. Made from pecans, almond flour, and coconut, these bars are easy to whip up and provide plenty of flavor to satisfy your cravings. This recipe also introduces a unique twist by using homemade "maple syrup" to add a delightful flavor. In this article, we'll take a closer look at how to make Maple Pecan Fat Bomb Bars with Homemade Maple Syrup.
Ingredients:
To create these scrumptious bars, you'll need the following ingredients:
2 cups toasted pecans
1 cup almond flour
1/2 cup flaxseed meal
1/4 cup shredded coconut
1/4 cup melted coconut oil
1/4 cup maple syrup
10 drops liquid stevia
Instructions:
Preheat the oven to 350°F.

Mix the toasted pecans, almond flour, flaxseed meal, and shredded coconut together in a large bowl.

Add the melted coconut oil, maple syrup, and liquid stevia to the bowl with the pecan mixture. Stir until everything is well combined.

Pour the mixture into an 8×8 inch baking dish, and press it down with your hands.

Bake the bars for 20-25 minutes or until golden brown.

Let the bars cool, slice them into 12 equal pieces, and enjoy!
Nutritional Information:
Each bar contains approximately 298.58 Calories, 29.71g Fats, 2.51g Net Carbs, and 4.74g Protein. These bars are an excellent option for those following a keto diet as they provide healthy fats and low net carbs.
FAQs:
Can I customize this recipe to suit my preferences?
Absolutely! You can add in other ingredients such as chocolate chips, different nuts, or even peanut butter to customize the recipe. Just remember to adjust the nutritional information accordingly.

How long do these bars typically stay fresh?
These bars should last up to one week if kept in an airtight container in the refrigerator.

Are there any substitutes I can use instead of maple syrup?
Yes! You can replace the maple syrup with any keto-friendly liquid sweetener such as honey, agave nectar, or even monk fruit syrup.

Can I freeze these bars for later?
Yes! Simply place the bars in an airtight container or freezer bag and store them in the freezer for up to three months.

Where can I find more keto-friendly recipes and tips?
Check out the Ruled.Me website for more keto recipes, knowledge, and tips about the keto diet. You can also follow Ruled.Me on Pinterest, Instagram, Facebook, and Twitter for more tasty food ideas.
Conclusion:
In conclusion, Maple Pecan Fat Bomb Bars with Homemade Maple Syrup is a simple yet delightful recipe that is perfect for anyone following the keto diet or looking for a satisfying snack. The combination of pecans, almond flour, flaxseed meal, and coconut oil provides a nutritious and balanced snack, while the homemade "maple syrup" adds a delicious twist. So why not give this recipe a try and enjoy a mouthwatering snack that's packed with healthy fats?