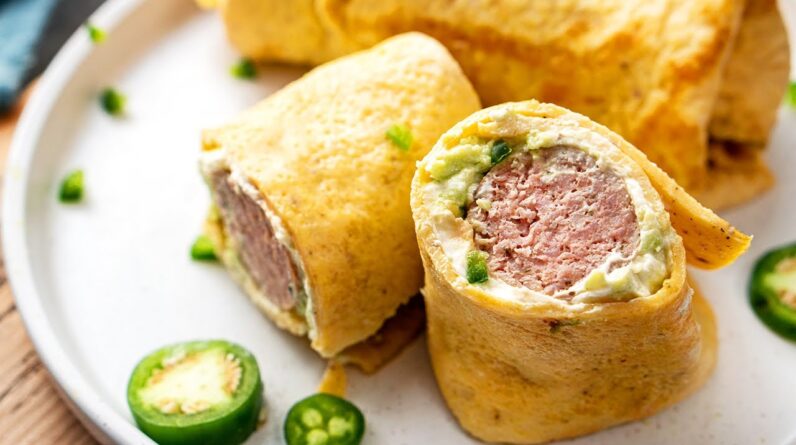 This post may contain affiliate links which means I may receive a commission for purchases made through links.  Learn more on my Private Policy page.
Welcome to today's post, where we will be exploring a mouth-watering keto breakfast recipe that is sure to satisfy your taste buds. This recipe features a combination of savory sausage, creamy avocado, and fluffy scrambled eggs, all wrapped up in a low-carb tortilla for a fulfilling start to your day. So, are you ready to discover how to make this delicious breakfast wrap? Let's dive in!
Introduction
Are you looking for a delicious, satisfying, and healthy breakfast recipe? Look no further! In this article, we will introduce you to an amazing keto breakfast recipe that is sure to tickle your taste buds: the Sausage & Avocado Egg Wrap. Packed with high protein and healthy fats, this keto recipe is perfect for jump-starting your day and keeping you full and energized for hours.
Ingredients
Before diving into the recipe, let's take a look at the ingredients you'll need to make these yummy wraps:
4 chicken sausage links
4 large eggs
1/2 avocado, sliced
1/4 cup cream cheese
1/4 cup sliced peppers
2 tbsp butter
Salt and pepper, to taste
Cooking Instructions
Cut the sausage links into small pieces and fry them in a large pan over high heat until golden brown.

In a separate bowl, beat the eggs and season with salt and pepper.

Heat a non-stick pan over medium heat and melt 1 tbsp of butter.

Pour a quarter of the egg mixture into the pan and cook until golden brown.

Flip the egg wrap over and cook for an additional minute.

Repeat steps 3-5 until you have four egg wraps.

Spread 1 tbsp of cream cheese over each egg wrap.

Add the cooked sausage, sliced avocado, and sliced peppers on top of the cream cheese.

Fold the egg wrap in half and serve warm.
Nutritional Information
This Sausage & Avocado Egg Wrap recipe is a perfect fit for the keto diet, as it is low in carbs and high in healthy fats and protein. Here is the nutritional breakdown of one serving:
Calories: 609
Fat: 46.9g
Net Carbs: 3.8g
Protein: 37.8g
Where to Find More Keto Recipes
If you enjoyed this recipe, make sure to check out ruled.me. They offer hundreds of keto-friendly recipes, along with tips, guides, and other useful resources to help you maintain a healthy keto lifestyle.
Conclusion
The Sausage & Avocado Egg Wrap is a simple yet flavorful breakfast recipe that will keep you satisfied for hours. With just a few ingredients, you can whip up a delicious and keto-friendly meal that will help you power through your day.
Here are five FAQs that may answer some of your questions:
FAQs
Q1. Can I make this recipe with other types of sausage?
A1. Sure! You can use any type of sausage that fits your taste and dietary needs.
Q2. How can I make the egg wraps thinner?
A2. Try using a larger pan and spreading the egg mixture evenly over the surface. This will help create a thinner wrap.
Q3. Can I add other veggies to this recipe?
A3. Definitely! You can experiment with different veggies like spinach, mushrooms, or onions.
Q4. How long does it take to make this recipe?
A4. This recipe only takes about 20 minutes to prepare and cook.
Q5. Can I store leftovers for later?
A5. Yes, you can store the leftovers in airtight containers in the fridge for up to two days. Just make sure to reheat them before serving.