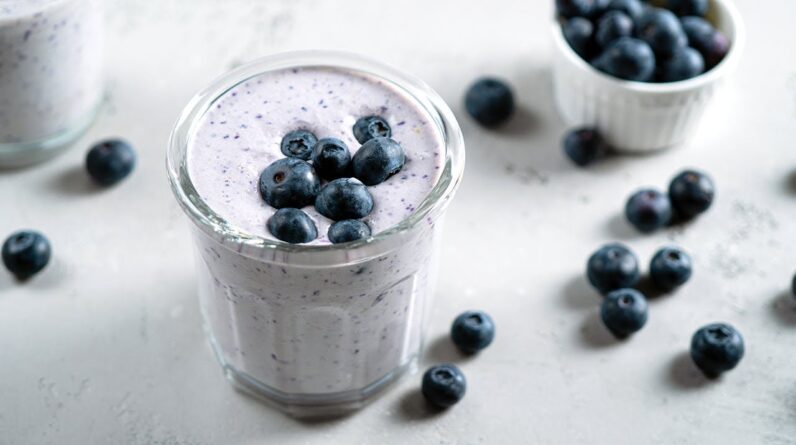 This post may contain affiliate links which means I may receive a commission for purchases made through links.  Learn more on my Private Policy page.
Looking for a quick and easy breakfast or snack that won't derail your keto diet? Look no further than this delicious keto blueberry smoothie! Packed with healthy fats and antioxidants, this smoothie is a tasty and satisfying way to start your day or satisfy your hunger. And the best part? It takes just a few minutes to whip up in your blender, so you can enjoy it anytime, anywhere. Keep reading for the full recipe and get ready to treat your taste buds to a blissful blend of blueberries and cream.
Introduction
Are you looking for a scrumptious and fast breakfast option that follows a keto diet? Look no further than this delectable blueberry smoothie recipe! With minimal prep time, you can enjoy a protein-packed and filling smoothie that is perfect for starting your day right. Not only is this smoothie delicious, but blueberries are considered a "superfood," and the protein powder in the recipe helps keep you feeling full until lunchtime. With 485 calories, 37.5g of fat, 7.9g net carbs, and 26.3g of protein, this smoothie is the perfect keto meal replacement for any busy morning.
Ingredients and Recipe
1 cup unsweetened almond milk
1/2 cup frozen blueberries
1 scoop vanilla protein powder
1 tablespoon chia seeds
1 tablespoon almond butter
1/2 teaspoon vanilla extract
1/4 teaspoon cinnamon
1/2 cup ice
Combine all the ingredients in a blender and blend until smooth.
Add more almond milk if you prefer a thinner consistency.
Why Blueberries?
Blueberries are considered a superfood for a reason. They are packed with nutrients, including vitamin C, vitamin K, fiber, and antioxidants. These antioxidants have been shown to help lower blood pressure and reduce the risk of heart disease.
Why Protein Powder?
Protein powder can be a perfect addition to a smoothie because it helps you feel full longer. Most people do not consume enough protein at breakfast, which can lead to snack cravings before lunch. Adding protein powder to this smoothie recipe ensures that you get an adequate amount of protein to keep you satisfied until lunchtime.
More Resources from Ruled.Me
If you're new to the keto diet, Ruled.Me is an excellent resource for knowledge and tips to help you get started. They offer a guide to the keto diet, including a list of foods to eat and avoid, as well as diet plans and recipes. Follow them on Pinterest, Instagram, Facebook, and Twitter for additional food ideas and inspiration.
Conclusion
Whipping up a keto blueberry smoothie for breakfast is quick, easy, and delicious. With its nutritious blueberries and filling protein powder, this smoothie is an ideal meal replacement that'll outweigh those carb-loaded muffins and croissants. At only 485 calories, this recipe guarantees a light and satisfying breakfast that'll keep you full until lunch. Enjoy!
FAQs:
Can I substitute the almond milk with another non-dairy milk?
Yes, you can use any non-dairy milk of your preference, such as coconut milk or cashew milk.

Can I use fresh blueberries instead of frozen?
You can use fresh blueberries, but adding ice will thicken the smoothie and make it more refreshing.

What are the benefits of chia seeds?
Chia seeds contain fiber, protein, omega-3 fatty acids, and various micronutrients that can help aid digestion and provide energy.

Can I omit the almond butter from the recipe?
If you do not have almond butter, you can substitute it with any other nut butter or even omit it entirely.

Can I swap the vanilla protein powder with another flavor?
Yes, feel free to experiment with different protein powder flavors. Chocolate or strawberry would also compliment the blueberries well.