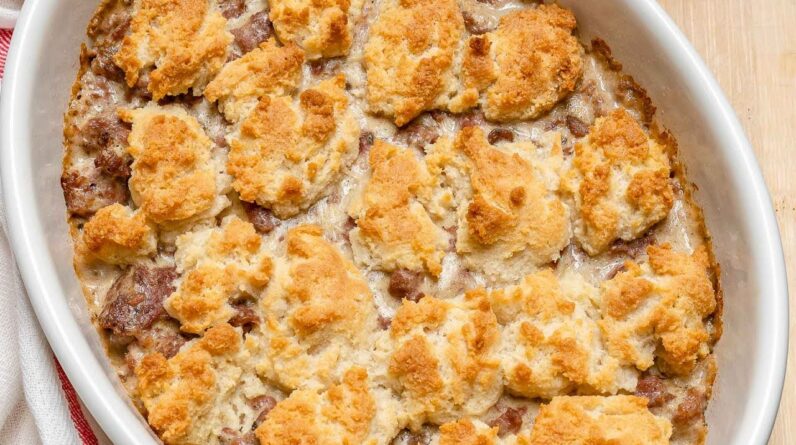 This post may contain affiliate links which means I may receive a commission for purchases made through links.  Learn more on my Private Policy page.
Indulge in a hearty yet healthy breakfast with our mouth-watering Keto Sausage Gravy and Biscuit Bake recipe. Packed with protein and low in carbs, this dish is a perfect addition to your keto meal plan. Whether you're a beginner or an experienced cook, this recipe is super easy to follow and the result is sure to impress your family and guests. So why not give it a try and whip up a satisfying breakfast that will keep you energized throughout the day?
Whip Up a Delicious Keto Sausage Gravy and Biscuit Bake: A Must-Try Recipe
Are you looking for a tasty and healthy breakfast recipe that satisfies your cravings without ruining your diet plan? Then, you should try the keto sausage gravy and biscuit bake recipe, which is a low-carb variant of the classic southern breakfast dish.
In this article, we'll guide you through the easy-to-follow recipe, provide the nutrition breakdown per serving, and share useful tips for the keto diet. So, let's start preparing the perfect sausage gravy and biscuit bake!
Introduction
Sausage gravy and biscuits are a staple of southern cuisine, but they're high in carbs, which makes them unsuitable for people following the keto diet. However, with a few ingredient swaps and tweaks, you can make a delicious low-carb version that satisfies your cravings and fits your diet plan.
The recipe includes a biscuit topping made from almond flour, eggs, and cheese, which mimics the texture and flavor of the original. The sausage gravy is a creamy and savory blend of pork sausage, heavy cream, and spices that complements the biscuits perfectly.
This dish is perfect for a holiday brunch, a special get-together, or any occasion when you want to spoil your taste buds without guilt. Plus, it's easy to make, and you can customize it to your liking by adding your favorite herbs, cheese, or veggies.
Here's the recipe in detail.
Ingredients
For the biscuit topping:
2 cups almond flour
4 large eggs
1/3 cup shredded mozzarella cheese
1/3 cup grated parmesan cheese
2 tsp baking powder
1/2 tsp garlic powder
1/2 tsp onion powder
1/4 tsp salt
1/4 tsp black pepper
For the sausage gravy:
1 lb ground pork sausage
1/2 cup chopped onion
2 cloves garlic, minced
1/2 cup heavy cream
1/2 cup chicken broth
1/2 tsp dried thyme
1/2 tsp dried sage
1/4 tsp red pepper flakes
Salt and pepper to taste
Instructions
Preheat the oven to 375°F. Grease a large baking dish and set aside.
In a large mixing bowl, combine the almond flour, eggs, mozzarella cheese, parmesan cheese, baking powder, garlic powder, onion powder, salt, and pepper. Mix well until a dough forms.
Spread the dough evenly into the prepared baking dish, pressing it with your fingers to cover the bottom and the sides. Bake for 12-15 minutes, or until lightly golden. Remove from the oven and let cool.
In a large skillet, cook the pork sausage over medium heat until browned and crumbly. Add the chopped onion and garlic and sauté for 2-3 minutes, or until fragrant.
Add the heavy cream, chicken broth, thyme, sage, red pepper flakes, salt, and pepper to the skillet. Stir well and let simmer for 5-7 minutes, or until the sauce thickens and coats the back of a spoon.
Pour the sausage gravy over the baked biscuit crust, spreading it evenly. Bake for another 10-12 minutes, or until the gravy is bubbly and the biscuit topping is golden and crisp.
Remove from the oven and let rest for 5-10 minutes. Cut into squares or wedges and serve hot.
Nutrition Breakdown
Servings: 8
Calories: 385
Net Carbs: 6g
Fat: 34g
Protein: 15g
FAQs
Is this recipe suitable for people on the keto diet?
Yes, this recipe is a low-carb and high-fat meal that fits the macronutrient ratios of the keto diet.

Can I use other types of flour instead of almond flour?
No, almond flour is the best choice for this recipe, as it provides a nutty and crumbly texture that resembles traditional biscuits.

Can I freeze the leftovers?
Yes, you can store the leftover sausage gravy and biscuit bake in the freezer for up to 3 months. Just reheat it in the oven or microwave before serving.

Can I add more vegetables to the sausage gravy?
Sure, you can add chopped bell peppers, mushrooms, or spinach to the recipe for more flavor and nutritional value.

Where can I find more keto recipes, tips, and resources?
You can visit our website, Ruled.Me, for more tasty and healthy recipes, diet plans, and guides to the keto lifestyle. You can also follow us on social media for daily inspiration and support.