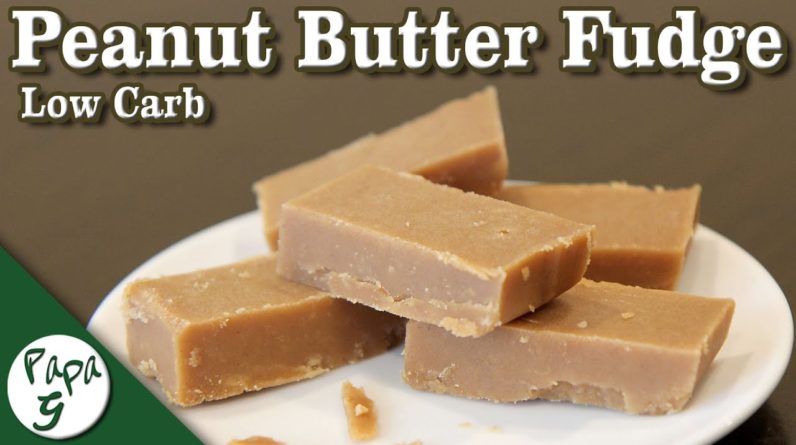 This post may contain affiliate links which means I may receive a commission for purchases made through links.  Learn more on my Private Policy page.
Welcome all! Papa G here. Today I present
Peanut Butter Fudge. This firm, yet creamy, easy to make low-carb treat only
requires five ingredients and will satisfy the finicky of sweet tooth
connoisseurs. Let's get started. Begin by melting some unsalted butter in
a sauce pot on medium heat. Add a granulated sugar substitute equal to one
cup of regular sugar. Stir to incorporate the sweetener and butter together. When
it's just about melted, add some salt and stir to combine. Now add some all-natural,
creamy peanut butter. Stir with a whisk until nice and smooth. When it just
begins to bubble, remove from the heat and stir in some vanilla extract. Line a
nine by nine inch pan with parchment paper. Carefully pour the fudge mixture
into the middle of the pan. Give a little shake to evenly distribute. Let cool for
about thirty minutes then place in the refrigerator for two to three hours to
set. lift out the fudge from the pan. The parchment paper makes this process easy
to do.
Cut into a minimum of 32 pieces. This fudge is firm to the touch, but
melts in your mouth. It also stores nicely in an airtight container in the
refrigerator for whenever that sweet tooth comes a-callin'. There you
have it folks! My Peanut Butter Fudge recipe. An easy to make, low-carb
treat. I hope you enjoyed this video. If you did, please like and consider
subscribing. Thanks for watching and I'll see you next time!.