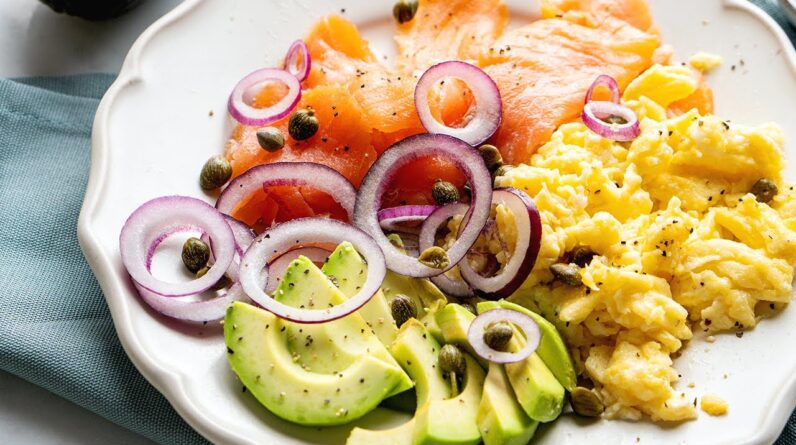 This post may contain affiliate links which means I may receive a commission for purchases made through links.  Learn more on my Private Policy page.
Looking for a delicious and healthy low-carb brunch option that's easy to make? Look no further than this super simple and satisfying Keto Brunch Bowl recipe with smoked salmon. Packed with protein and healthy fats, this dish is perfect for anyone following a ketogenic or low-carb diet, or simply looking for a tasty, filling breakfast option. So, grab your ingredients and let's get started!
Enjoy a Super Simple Low-Carb Keto Brunch Bowl with Smoked Salmon Recipe
Are you looking for a perfect low-carb keto brunch bowl packed with high-quality protein and omega-3 fatty acids? Look no further! This smoked salmon brunch bowl recipe is delicious, easy-to-make, and perfect for a lazy weekend brunch.
Introduction ##
A bowl of smoked salmon with avocado and eggs is everything you need to kickstart your day. Brunch bowls are one of the best ways to get your fill of healthy fats, protein, and nutrients, without any added sugars or carbohydrates. This keto smoked salmon brunch bowl recipe is one of our favorites because it is easy to follow, customizable, and perfect for a quick and healthy brunch.
Ingredients:
Smoked salmon
Avocado
Eggs
Olive oil
Salt
Black pepper
Steps:
Preheat the oven to 400°F.
Crack two eggs into an oven-safe dish.
Drizzle olive oil over the eggs, and season with salt and pepper.
Bake the eggs in the oven for 10-12 minutes.
Slice the avocado and place it in a bowl.
Add the cooked eggs to the bowl.
Add smoked salmon and sprinkle with additional salt and pepper.
Enjoy!
Brunch Bowl Taste Best When Ingredients are Kept Separate and Mixed before Serving
A brunch bowl is a meal that can be customized according to your liking. However, it is important to keep the ingredients separate and mix them before serving. This ensures that all the flavors are well combined and the meal tastes delicious.
Smoked Salmon is High in Sodium but Also Packed with High-quality Protein, Vitamins, Minerals and Omega-3 Fatty Acids
Salmon is a nutrient-dense food with high-quality protein, vitamins, minerals, and omega-3 fatty acids. However, smoked salmon is also high in sodium, so it's essential to consume it in moderation.
Avocados are High in Monounsaturated Fats, Potassium and Add a Creamy Element to the Brunch Bowl
Avocados are a great addition to any brunch bowl because they are high in monounsaturated fats and potassium, which are essential for a healthy heart. The creamy texture of avocado also makes this dish rich and satisfying.
Eggs are a Great Protein Option High in Vitamins A, D, E, and Folate
Eggs are a great source of protein and are perfect for a low-carb keto brunch bowl. In addition to protein, eggs are also high in essential vitamins A, D, E, and folate, making them an excellent choice for any healthy meal.
This Keto Smoked Salmon Brunch Bowl Recipe Contains 496 Calories, 37.1g Fat, 4.3g Net Carbs, and 31.5g Protein
The nutritional information for this keto smoked salmon brunch bowl recipe is perfect to keep you satiated for hours. It contains 496 calories, 37.1g fat, 4.3g net carbs, and 31.5g protein. This meal can be adjusted according to your macros and preferences.
Ruled.Me Provides More Keto Recipes, Knowledge, and Tips for Weight Loss
If you want to learn more about the keto diet, weight loss, and healthy recipes, check out Ruled.Me. They have a comprehensive guide to the keto diet, a 14-day diet plan, food products, and more.
Follow Ruled.Me on Social Media for More Tasty Food Ideas
Ruled.Me is active on social media, including Facebook, Twitter, and Instagram, where you can find their latest keto-friendly recipes, meal ideas, and weight loss tips. Follow them today and start living a healthier lifestyle.
Conclusion
This Keto Smoked Salmon Brunch Bowl recipe is an excellent brunch option that is loaded with flavor and nutrients. The recipe is easy to customize, and you can always add or substitute ingredients to suit your taste. Make sure to keep the ingredients separate and mix them before serving to enjoy the full flavor of this bowl. Follow Ruled.Me for more tasty and healthy keto recipes and tips.
FAQs ##
Can I add more vegetables to this brunch bowl recipe?
Ans – Absolutely. You can add spinach or kale to this brunch bowl recipe to make it even more nutritious.

Can I omit smoked salmon from this recipe?
Ans – Yes, you can substitute smoked salmon with other protein options like bacon or sausage.

Is this keto recipe good for weight loss?
Ans – Yes, this keto recipe is excellent for weight loss because it is low-carb, high-protein, and full of healthy fats.

Can I use any cooking oil instead of olive oil?
Ans – Yes, you can use any cooking oil you prefer, but olive oil has more health benefits.

Can I use duck eggs instead of chicken eggs in this recipe?
Ans – Yes, you can use duck eggs, quail eggs, or any other egg types you prefer in this recipe.