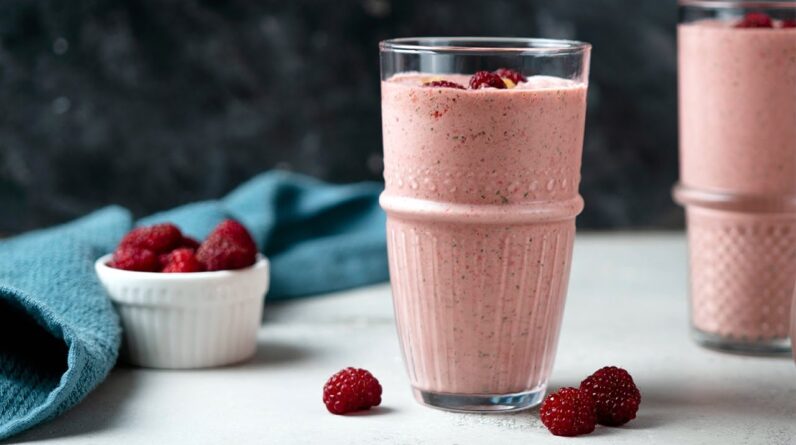 This post may contain affiliate links which means I may receive a commission for purchases made through links.  Learn more on my Private Policy page.
Looking for an easy and scrumptious way to add more nutrients to your diet while sticking to your keto lifestyle? Look no further than this keto cinnamon raspberry smoothie recipe! With only a handful of ingredients and a blender, you can whip up a refreshing and satisfying treat that's loaded with healthy fats, protein, and fiber. Plus, the sweet tang of raspberries and the comforting warmth of cinnamon make it a delicious way to start your day or power up your afternoon. Keep reading for the full recipe and tips on how to customize it to your taste!
How to Make a Delicious and Nutritious Easy Keto Cinnamon Raspberry Smoothie
Are you on a keto diet and struggling to find a tasty breakfast or snack option that won't knock you out of ketosis? Look no further than this easy keto cinnamon raspberry smoothie recipe! This smoothie is not only delicious, but it's also packed with nutrients that will keep you feeling full and satisfied until your next meal.
Ingredients
1 cup frozen raspberries
1/2 cup unsweetened almond milk
1/4 cup heavy cream
1 tablespoon almond butter
1/2 teaspoon cinnamon
Instructions
Add all ingredients to a blender.
Blend until smooth and creamy.
Pour into a glass and enjoy!
Nutritional Information
Serving Size: 1 smoothie
Calories: 219
Fat: 19g
Protein: 4g
Net Carbs: 6g
Why This Smoothie is Good for You
Raspberries and cinnamon combine well in a smoothie that can be enjoyed as a snack or breakfast. Raspberries are low in sugar and calories, high in fiber, vitamins and minerals, and contain anti-aging antioxidants. The smoothie is also a good source of fiber, which aids digestion, promotes a healthy digestive tract, and improves mood and metabolism. Almond milk, almond butter, and almonds in general are nutrient-packed, high in healthy fats, protein, and fiber, and great for weight loss. Cinnamon gives the smoothie a delicious, subtly spiced taste and has antioxidant, antibacterial, and anti-inflammatory effects.
5 FAQs About This Smoothie
1. Can I use fresh raspberries instead of frozen?
You can, but we recommend using frozen raspberries because they will give the smoothie a thicker, creamier texture.
2. Can I use a different type of milk instead of almond milk?
Absolutely! There are many different types of milk that can be used in this recipe, including coconut milk, cashew milk, or even regular cow's milk.
3. What can I substitute for heavy cream?
If you're looking for a dairy-free option, you can use coconut cream instead of heavy cream.
4. Can I add protein powder to this smoothie?
Of course! Adding a scoop of protein powder is a great way to boost the protein content of this smoothie and make it more filling.
5. Can I make this smoothie ahead of time?
While it's best to enjoy this smoothie immediately after it's made, you can make a batch ahead of time and store it in the fridge for up to 24 hours.