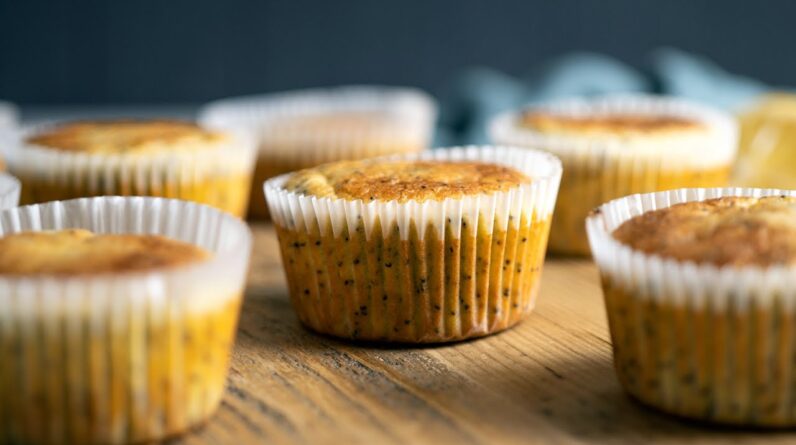 This post may contain affiliate links which means I may receive a commission for purchases made through links.  Learn more on my Private Policy page.
Looking for a delicious and quick breakfast option that fits your keto diet? Try our mouth-watering Lemon Poppy Seed Muffins! Packed with healthy fats and protein, these muffins will keep you feeling full and satisfied all morning long. Plus, they're easy to make and can be enjoyed on-the-go. Perfect for busy mornings or a lazy weekend brunch, these muffins are sure to be a crowd-pleaser. So, why not start your day off right with a warm, freshly baked muffin that'll help you power through your day?
Introduction
Starting your day with a nutritious and delicious breakfast is an excellent way to kickstart your day. However, finding a breakfast option that fits into your keto diet can be challenging. Luckily, keto lemon poppy seed muffins are a perfect solution to your breakfast dilemma. These muffins are quick to make and have a great texture, making them the perfect way to fuel your body for a productive day, whether at work or home.
How to Make Keto Lemon Poppyseed Muffins
Ingredients:
2 cups almond flour
1/4 cup flaxseed meal
1/2 cup erythritol
2 tbsp poppy seeds
1 tbsp baking powder
1/4 tsp salt
1 lemon, zested
1/4 cup lemon juice
1/4 cup melted butter
2 large eggs
1/4 tsp liquid Stevia
1/4 cup unsweetened almond milk
Instructions:
Preheat your oven to 350°F and prepare a muffin tin with liners.
In a bowl, mix together the almond flour, flaxseed meal, erythritol, poppy seeds, baking powder, and salt.
In another bowl, whisk together the lemon zest, lemon juice, melted butter, eggs, and liquid Stevia.
Combine the dry and wet ingredients, then stir in the almond milk until a batter forms.
Pour the batter evenly into the prepared muffin tin, and bake for 20-25 minutes, or until the muffins are golden brown and a toothpick comes out clean.
Let the muffins cool before serving.
The Nutritional Value of Keto Lemon Poppyseed Muffins
One serving of keto lemon poppy seed muffins, or one muffin, contains the following:
130 calories
11.69g fats
1.73g net carbs
4.04g protein
Ways to Enjoy Keto Lemon Poppyseed Muffins
For an extra keto kick, warm up your muffins in the microwave and serve them with butter.
Add a dollop of cream cheese frosting to the muffin to transform it into a delicious dessert.
Pair the muffins with a keto-friendly smoothie or coffee for a complete breakfast.
Why Choose Keto Lemon Poppyseed Muffins
Keto lemon poppyseed muffins are easy to make and have a great texture.
They are low in net carbs at only 1.7g per muffin, making them the perfect breakfast or snack option for those following the keto diet.
They are a healthier alternative to traditional muffins made with refined flour and sugar.
Keto lemon poppyseed muffins are not only nutritious but also delicious, making it a great way to start your day off right.
FAQs About Keto Lemon Poppyseed Muffins
Are keto lemon poppyseed muffins gluten-free?
Yes, they are gluten-free as they are made with almond flour and flaxseed meal instead of traditional wheat flour.

Can I substitute the erythritol with another sweetener?
Yes, you can use any keto-friendly sweeteners such as monk fruit, xylitol or allulose.

How long do keto lemon poppyseed muffins last?
Keto lemon poppyseed muffins can last up to 5 days when stored in an airtight container in the fridge.

Can I freeze keto lemon poppyseed muffins?
Yes, you can freeze them for up to 2-3 months. Simply thaw them overnight in the fridge when ready to eat.

Can I add other flavors to the keto lemon poppyseed muffin recipe?
Yes, you can add vanilla extract or blueberries to the recipe to give it a different flavor.
Conclusion
In conclusion, keto lemon poppy seed muffins are a delicious and nutritious breakfast option that will fuel your body and keep you feeling satisfied throughout the day. They are easy to make and versatile, making them perfect for both breakfast and a mid-day snack. Plus, you can customize them to your liking by adding in different flavors. Give this recipe a try and taste for yourself the goodness that comes with starting your day off right.