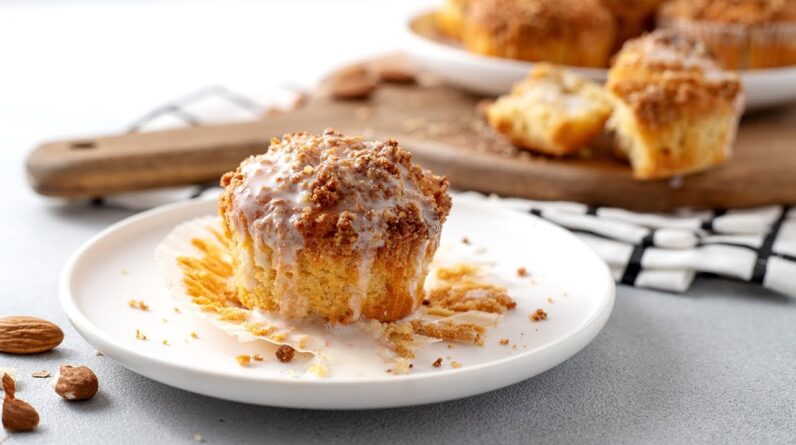 This post may contain affiliate links which means I may receive a commission for purchases made through links.  Learn more on my Private Policy page.
Get ready to indulge in some irresistibly delicious coffee cake muffins that are not only scrumptious but also keto-friendly! Yes, you heard it right! This must-try recipe is perfect for all those who are on a ketogenic diet but don't want to miss out on the joy of relishing a sweet treat. Made with a blend of wholesome ingredients, these coffee cake muffins are an absolute delight for your taste buds and a great snack option to satiate those mid-day cravings. So, let's dive in and learn how to make these heavenly indulgences!
Introduction
The quest for a balanced breakfast while on a ketogenic diet can be a challenge. Many typical breakfast foods are loaded with carbs, which is why these delicious Keto Coffee Cake Muffins are perfect. Packed with protein, low in carbs, and made with healthy ingredients, these muffins are perfect for a meal on-the-go or a relaxed morning at home.
Ingredients
As with all keto recipes, the ingredients in these muffins are essential to keep track of. Here's what you'll need:
2 cups of almond flour
1/4 cup of erythritol
2 tsp of baking powder
2 tsp of ground cinnamon
1/2 cup of unsweetened almond milk
3 large eggs
1/4 cup of melted coconut oil
1/2 tsp of vanilla extract
The Recipe
Preheat your oven to 350°F (175°C) and line a muffin tin with 12 muffin cups.
In a bowl, whisk together the almond flour, erythritol, baking powder, and cinnamon.
In a separate bowl, whisk together the unsweetened almond milk, eggs, melted coconut oil, and vanilla extract.
Pour the wet ingredients into the bowl with the dry ingredients and mix well.
Evenly distribute the batter into the muffin cups.
Bake for 18-20 minutes or until a toothpick comes out clean.
Allow the muffins to cool down in the muffin tin for 5-10 minutes before removing them and letting them cool completely.
Enjoy these muffins with a delicious vanilla drizzle on top!
Nutrition Facts
Each muffin has 287 calories, 25.9g fat, 2.9g net carbs, and 9.4g protein. They're a perfect breakfast to start your day off right and keep you on track with your keto goals.
Health Benefits
Not only are these muffins low in carbohydrates and high in protein, but the ingredients used also offer some fantastic health benefits. Here are some examples:
Almond flour is an excellent source of fiber, healthy fats, and provides protein.
Unsweetened almond milk is a low calorie and vegan alternative to dairy milk that is loaded with vitamins A and D.
Cinnamon is known for its anti-inflammatory properties that help protect your heart health and reduce the risk of cardiovascular disease.
Whey protein and eggs slow down the digestive system and make you feel fuller longer, preventing snacking throughout the day.
FAQs
Are these muffins dairy-free?
Yes! Made with almond milk instead of regular milk and coconut oil instead of butter, these muffins are completely dairy-free.

Can I use other types of flour instead of almond flour?
It's not recommended to switch out almond flour for other types of flour since those flours will have a higher carb count. If you're allergic to almonds, you can try sunflower seed flour instead.

How long do these muffins last?
These muffins can be stored in an airtight container in the fridge for up to a week.

Can I add other ingredients to the muffins?
Sure! You can add chopped nuts or other spices like nutmeg or allspice to add more flavor to the muffins.

Is there anything I can substitute for erythritol?
You can use any other low-carb sweetener, like stevia or monk fruit sweetener, as a substitute for erythritol.
Conclusion
Eating delicious breakfasts on a ketogenic diet doesn't have to be a challenge. These Keto Coffee Cake Muffins are perfect for starting your day off right while keeping you full and satisfied. With only 2.9g of net carbs per muffin, they're a great way to indulge without compromising on your health goals. Make sure to check out Ruled.Me for more keto recipes, tips, and diet plans to help you on your keto journey today!