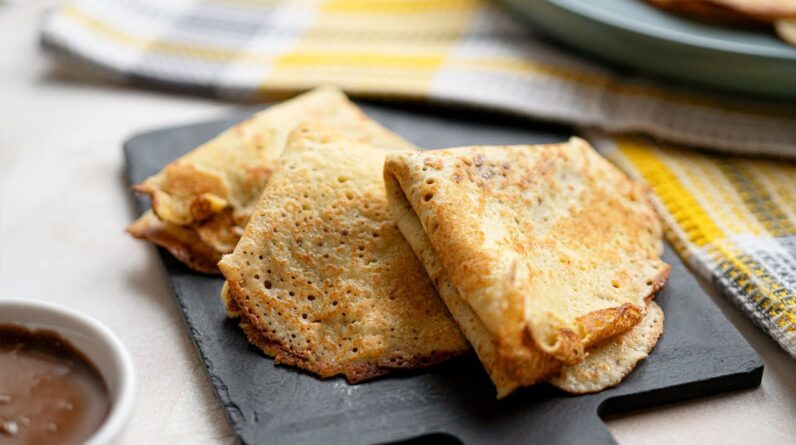 This post may contain affiliate links which means I may receive a commission for purchases made through links.  Learn more on my Private Policy page.
Welcome to our latest blog post where we're excited to share with you a quick and easy recipe to make keto-friendly crepes with just five simple ingredients. Whether you're a fan of the ketogenic diet, or just looking for a new twist on your breakfast routine, this recipe is the perfect choice. With our step-by-step guide, you'll be able to whip up these delicious and healthy crepes in no time, and impress your family and friends with your culinary skills. So let's get started and learn how to make these tasty and nutritious crepes today!
Introduction:
If you're following a low-carb or keto diet, you might be missing out on some of your favorite high-carb meals, including crepes. Fortunately, with the right substitutions, making keto-friendly crepes is possible, and you don't need many ingredients to do so. In this article, we'll show you how to make keto-friendly crepes with just five ingredients. From sweet fillings like Nutella to savory fillings like ham and cheese, we've got you covered.
What are keto-friendly crepes?
Crepes are a compromise between pancakes and tortillas. They are thin, delicate, and usually served with sweet or savory fillings. Traditional crepes are made with flour, eggs, milk, and sugar, which makes them high in carbs and sugar.
However, for those following a low-carb or keto diet, traditional crepes are not an option. That's where keto-friendly crepes come in. They are made with low-carb and keto-friendly ingredients, making them a great option for those looking to indulge in a delicious breakfast, brunch, or snack without compromising their diet.
Making keto-friendly crepes:
Making keto-friendly crepes is possible by substituting flour and sugar for lower-carb and keto-friendly options. One such option is almond flour, which is low in carbs and high in healthy fats. Another popular option is coconut flour, which absorbs liquid quickly and is also low in carbs.
For sweetening keto-friendly crepes, you can use low-carb sweeteners like stevia or erythritol. Finally, to give the crepes filling and to provide healthful fats, you can use eggs, milk, and butter.
Recipes for keto-friendly crepes:
Here are five keto-friendly crepe recipes you'll love:
Keto Nutella Crepes: This recipe uses almond flour, cream cheese, and cocoa powder to make a delicious ketogenic Nutella.

Snickerdoodle Keto Crepes: With almond flour, cinnamon, and cream cheese, these crepes are a perfect low-carb option for breakfast or brunch.

Chocolate Keto Crepe Filling: If you're a chocolate lover, this recipe is for you. It uses coconut cream, cocoa powder, and erythritol to make a delicious chocolate filling for your crepes.

Berries and Cream Crepes: These crepes are filled with a homemade whipped cream cheese and mixed berries.

Savory Ham and Cheese Crepes: These ham and cheese crepes are an excellent option for lunch, dinner, or even a snack.
Recipe for making keto-friendly crepes:
Ingredients:
1/2 cup almond flour
2 eggs
1/4 cup unsweetened almond milk
1/4 tsp. baking powder
1/4 tsp. salt
Instructions:
In a mixing bowl, whisk together eggs and almond flour.
Add in almond milk and continue whisking until well combined.
Add baking powder and salt, and whisk once more.
Let the mixture rest for 5-10 minutes.
In a non-stick skillet, melt a teaspoon of butter over medium heat.
Pour 1/4 cup of the mixture into the skillet, and swirl until the mixture covers the bottom of the pan.
Cook for 1-2 minutes, or until the edges are golden brown.
Flip and cook for another 30 seconds.
Repeat until all the batter is used.
Each serving yields 297 calories, 25.2g fat, 3.7g net carbs, and 12.6g protein.
Conclusion:
Keto-friendly crepes are an excellent option for those on a low-carb or keto diet. With just a few simple substitutions, you can make a delicious and healthy breakfast, brunch, or snack. Try out our recipe for keto-friendly crepes, and experiment with different fillings until you find your favorite. Don't forget to check our website for more keto resources and recipes.
FAQs:
Can I use coconut flour instead of almond flour for the crepes?
Yes, you can use coconut flour as a substitution for almond flour, but the ratio will be different. For every 1 cup of almond flour, use 1/4 cup of coconut flour.
Can I make the crepes a day ahead of time?
Yes, you can make the crepes ahead of time and store them in the fridge for up to 3 days or in the freezer for up to 3 months.
Can I use regular milk instead of almond milk?
Yes, you can use regular milk, but it will increase the carb count.
Can I use a sweetener other than stevia or erythritol?
Yes, you can use other low-carb sweeteners like monk fruit sweetener or xylitol.
Can I make the crepes without eggs?
Unfortunately, for this recipe, eggs are a necessary ingredient, and there is no great substitution for them.