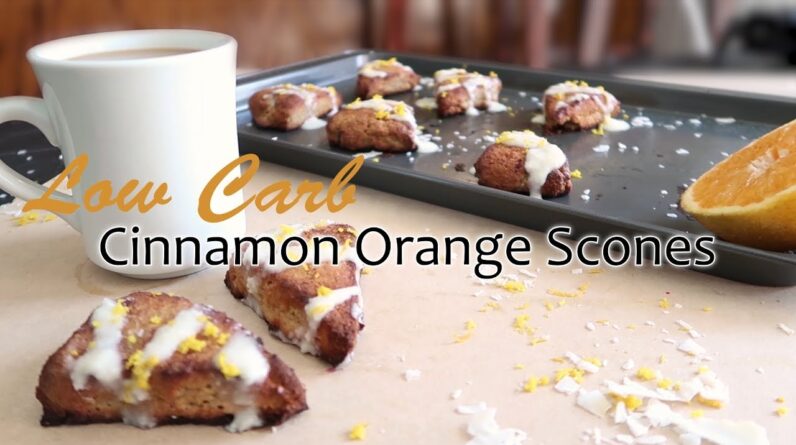 This post may contain affiliate links which means I may receive a commission for purchases made through links.  Learn more on my Private Policy page.
Are you looking for a tasty yet healthy option for your breakfast or midday snack? Look no further than these scrumptious Keto-friendly Low Carb Cinnamon Orange Scones! With this easy-to-follow recipe, you can master the art of baking these delectable treats without sacrificing your health goals. So, let's roll up our sleeves and dive into baking delicious scones that will leave you wanting more.
Learn to Make Keto-Friendly Low Carb Cinnamon Orange Scones
Introduction
If you're following a keto diet, it can be tough to find a baked treat that fits within your guidelines. Scones, in particular, can be difficult since they are typically made with flour and sugar. However, with a few tweaks, you can create a keto-friendly version that is just as delicious. In this article, we'll teach you how to make Low Carb Cinnamon Orange Scones that are sure to satisfy your cravings.
Ingredients
Here are the ingredients you'll need:
2 cups almond flour
1/4 cup coconut flour
1/3 cup erythritol
2 teaspoons baking powder
1/2 teaspoon cinnamon
1/4 teaspoon salt
1/3 cup melted butter
1/4 cup heavy cream
1 egg
1 tablespoon orange zest
1/2 teaspoon vanilla extract
2-5 drops liquid stevia (optional)
Instructions
Preheat your oven to 350 degrees Fahrenheit.
In a large bowl, mix together the almond flour, coconut flour, erythritol, baking powder, cinnamon, and salt.
In a separate bowl, whisk together the melted butter, heavy cream, egg, orange zest, vanilla extract, and liquid stevia (if using).
Add the wet ingredients to the dry ingredients and stir until everything is well combined.
Shape the dough into a large ball and then flatten it into a disc that is about 1 inch thick.
Cut the dough into 8 triangles, like you would a pizza.
Place the scones onto a baking sheet lined with parchment paper.
Bake for 18-22 minutes, until they are golden brown.
Allow the scones to cool for a few minutes before icing and serving.
Recipe for Icing
If you'd like to add some icing to your scones, here's the recipe:
1/4 cup coconut butter
2 tablespoons orange juice
5-10 drops liquid stevia (to taste)
Melt the coconut butter in a microwave-safe bowl or on the stovetop.
Add the orange juice and liquid stevia and stir until everything is well combined.
Drizzle the icing over the cooled scones and allow it to set before serving.
Nutrition breakdown
Here's the nutrition information for one scone, without icing:
Calories: 211.25
Fat: 20.02g
Protein: 5g
Carbs: 5.46g
Fiber: 2.48g
Net Carbs: 2.98g
Conclusion
Low Carb Cinnamon Orange Scones are the perfect keto-friendly treat to have with your coffee or tea. They're easy to make and a great way to satisfy your sweet cravings without breaking your diet. For more keto recipes, tips, and resources, visit our website, and don't forget to follow us on social media for more updates.
FAQs
Can I substitute the almond flour for another type of flour?
It's possible to substitute the almond flour for another type of nut flour, but we can't guarantee the same results.
Can I use powdered stevia instead of liquid stevia?
Yes, but you'll need to adjust the amounts accordingly, as powdered stevia is more concentrated than liquid stevia.
Is there a dairy-free option for this recipe?
Yes, you can substitute the melted butter and heavy cream for coconut oil and coconut milk, respectively.
How should I store the scones?
The scones can be stored in an airtight container at room temperature for up to 3 days, or in the fridge for up to a week.
Can I freeze the scones?
Yes, the scones can be frozen for up to 3 months. Allow them to thaw at room temperature before reheating in the oven.