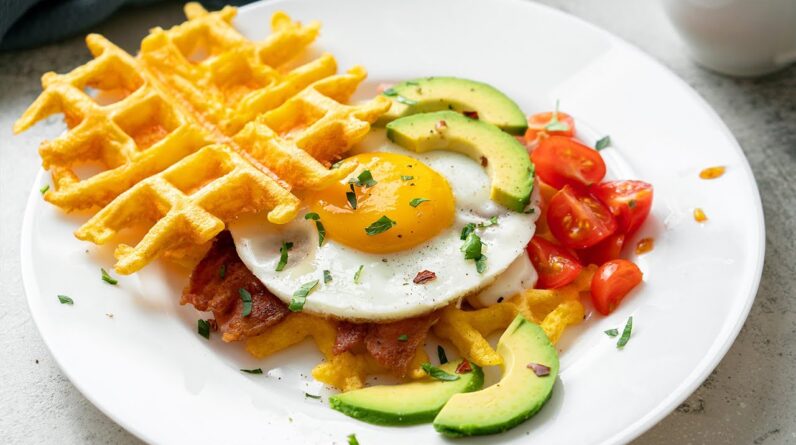 This post may contain affiliate links which means I may receive a commission for purchases made through links.  Learn more on my Private Policy page.
Are you tired of your usual breakfast routine and looking for a tasty low-carb option? Look no further than this delicious keto breakfast recipe – low-carb chaffles sandwich! These chaffles are not only easy to make, but they're also a perfect alternative to traditional high-carb sandwiches. With the perfect combination of crispy chaffles and savory fillings, this recipe is the perfect way to start your day on a healthy note. So, let's jump into the recipe and discover the mouth-watering world of low-carb chaffles.
Introduction
If you're on a low-carb or Keto journey, it can be quite challenging to find delicious breakfast options that fit your nutritional macros. Breakfast sandwiches are tasty, loaded with all the right flavors, and can be easily prepared in a chaffle. Are you familiar with chaffles? They are a Keto twist on waffles made with cheese and egg as the primary ingredients, making them low in carbs and high in healthy fats. Let's dive into a filling, savory, and low-carb breakfast recipe: Low-Carb Chaffles Sandwich.
Ingredients
1 Large egg
1/2 Cup shredded mozzarella cheese
1/2 Tsp baking powder
Salt and pepper, to taste
2 Slices cooked bacon
1 Small avocado, mashed
1/4 Cup baby spinach leaves
Mayonnaise, as desired
Instructions
In a mixing bowl, whisk one egg and add shredded mozzarella cheese, salt, pepper, and baking powder. Mix well.
Pour the chaffle batter into a heated pre-greased waffle maker.
Cook until lightly golden and crispy.
Cut the chaffle in half and set aside.
Spread mayonnaise on one side, add mashed avocado and baby spinach leaves.
Add crispy bacon on top of the spinach leaves.
Add the other half of the chaffle on top.
Serve and enjoy!
Nutritional Breakdown
Each serving contains 844 calories, 71.1g fat, 3.6g net carbs, and 43.9g protein, making it a calorie-dense, rich and fulfilling breakfast option. Adjust the fillings as per your macros or dietary preferences.
More Keto Resources
Looking for more low-carb and high-fat breakfast options? Head over to the website and browse through a variety of keto recipes, nutrition tips, and support to help you achieve your weight loss goals. The website also features a guide to Keto Diet, a 14-day diet plan, and a shopping list to get you started on your journey.
Follow Us
Stay up to date with the latest delicious food ideas and recipes. Follow Ruled.Me on social media for Instagram-worthy posts that will keep you motivated and inspired in your Keto journey.
Conclusion
The Low-Carb Chaffles Sandwich is a savory and satisfying breakfast option that will keep your taste buds and stomach happy. With just a few easy steps, you can rustle up a filling breakfast that will keep you energized throughout the day. Use this recipe as a base and experiment with different fillings to create a flavor profile that suits your taste buds.
FAQs
What is the nutritional value of the Low-Carb Chaffles Sandwich?

This sandwich contains 844 calories, 71.1g fat, 3.6g net carbs, and 43.9g protein per serving.

Can I adjust the fillings to suit my macros or dietary preferences?

Yes, feel free to add or remove fillings that align with your nutritional goals.

Do I need special equipment to make chaffles?

No, a regular waffle maker will do the job.

Where can I find more Keto recipes and tips?

Head over to the website for more recipes, health tips, and resources.

Can I follow the Keto diet even if I'm a vegetarian?

Yes, there are plenty of vegetarian and vegan options available on the website.