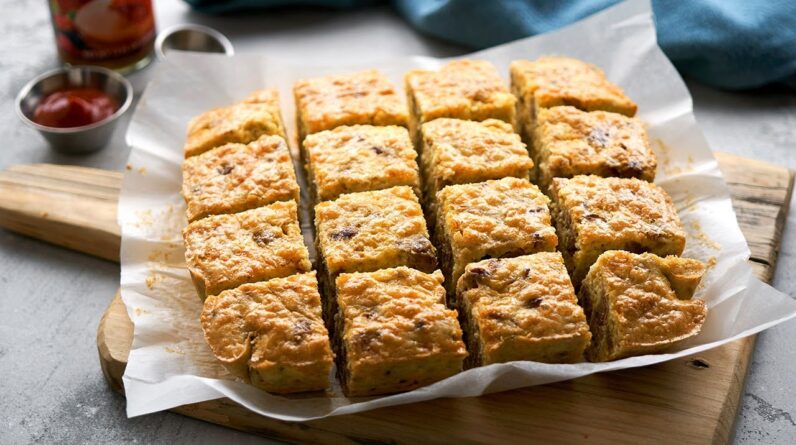 This post may contain affiliate links which means I may receive a commission for purchases made through links.  Learn more on my Private Policy page.
Are you searching for a low-carb breakfast option that tastes like your favorite fast-food sandwich? Look no further than this Mock McGriddle Casserole! With its perfect blend of savory sausage, melted cheese, and fluffy pancakes, this casserole is a satisfying and delicious way to start your day. So why not try making this easy recipe at home today and enjoy a guilt-free and tasty breakfast tomorrow morning?
Introduction
Breakfast is the most important meal of the day, and what could be better than starting off with a delicious, low-carb option? With this recipe, you can enjoy the flavors of the popular breakfast sandwich in a quick and easy way. The Low Carb Mock McGriddle Casserole is perfect for those who are following the keto diet and want to maintain a healthy lifestyle.
Ingredients
2 cups Almond Flour
1/4 cup Flaxseed Meal
1 lb Breakfast Sausage
1/2 cup Cheddar Cheese
1/3 cup Walden Farms Maple Syrup
1/4 cup Butter
1 tsp Onion Powder
1 tsp Garlic Powder
1 tsp Sage
Salt and Pepper to taste
Instructions
Preheat your oven to 375°F.
Cook the breakfast sausage in a skillet until browned.
In a mixing bowl, combine the almond flour, flaxseed meal, onion powder, garlic powder, sage, salt, and pepper.
In a separate bowl, whisk together the eggs and Walden Farms Maple Syrup.
Incorporate the egg mixture into the dry ingredients and mix until combined.
Add the cooked sausage and cheddar cheese to the bowl and mix together.
Grease a 9×13 inch baking dish with butter.
Pour the mixture into the greased dish and bake for 25-30 minutes, or until golden brown.
Allow the casserole to cool before serving.
You can either enjoy the casserole hot straight out of the oven or store it in the refrigerator for a later meal. The Low Carb Mock McGriddle Casserole can be easily reheated in the microwave for a hot breakfast or dinner option.
Nutritional Information
Each serving of the Low Carb Mock McGriddle Casserole consists of 447.63 Calories, 36.04g Fats, 2.87g Net Carbs, and 26.16g Protein. With these low carb options, you can enjoy a delicious breakfast or dinner without feeling guilty about cheating on your ketogenic diet.
Conclusion
Breakfast on a keto diet doesn't have to be boring or repetitive. With this Low Carb Mock McGriddle Casserole recipe, you can enjoy the flavors of a classic breakfast sandwich in a quick, easy, and simple way. Whether you're looking for a grab-and-go breakfast option or just want to switch up your morning routine, this casserole is the perfect solution.
FAQs
Is almond flour necessary for this recipe, or can other low-carb flours be used?
Almond flour works best for this recipe, but you can substitute it with other low-carb flours such as coconut flour or hazelnut flour.

Can I use turkey sausage instead of pork sausage?
Yes, you can substitute pork sausage with turkey sausage or any other type of breakfast meat that you prefer.

Is this recipe spicy, or can I adjust the seasoning according to my taste?
The Low Carb Mock McGriddle Casserole recipe is not spicy, but you can adjust the seasoning according to your taste preference.

How long can I store this casserole in the refrigerator?
The casserole can be stored in the refrigerator for up to 3-4 days.

Can I freeze this casserole for later use?
Yes, you can freeze the casserole for later use. Make sure to cover it tightly before placing it in the freezer. Reheat in the oven or microwave before serving.