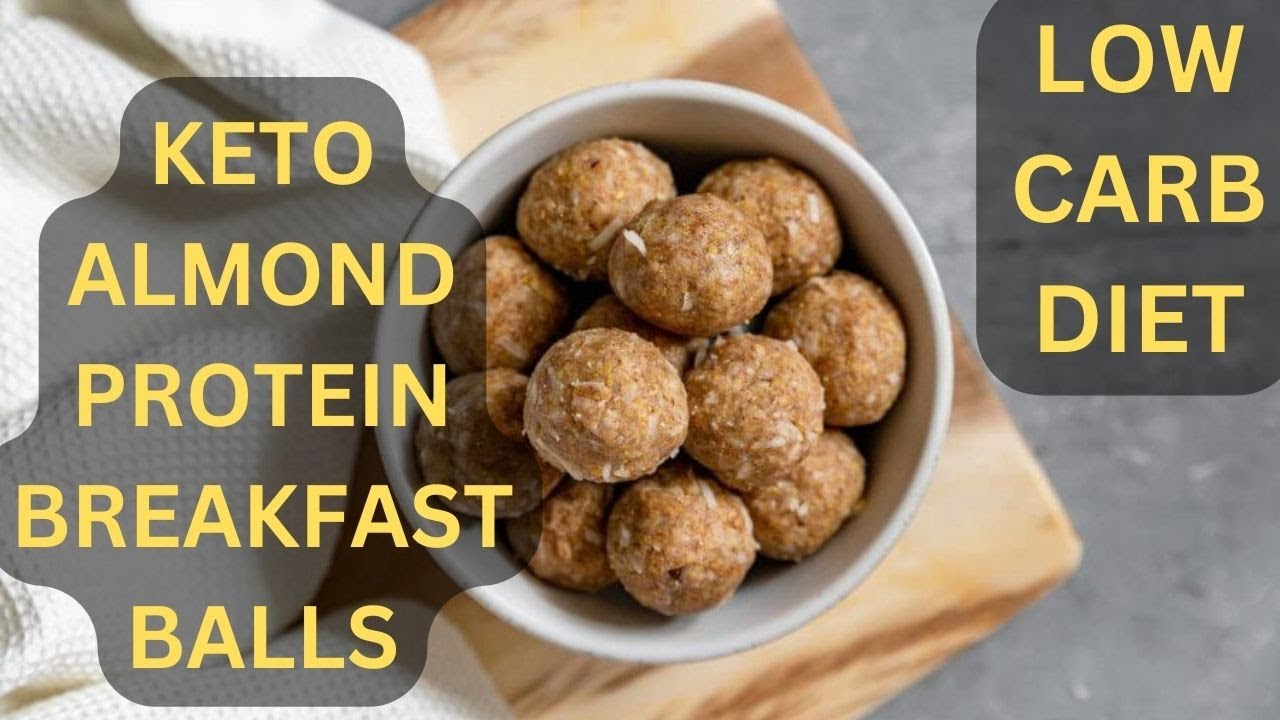 This post may contain affiliate links which means I may receive a commission for purchases made through links.  Learn more on my Private Policy page.
Keto Diet Recipes For Weight Loss – Low-Carb Diet.
In this video, I'll show you How To Make Keto Almond Protein Breakfast Balls, which is a low-carb diet for weight loss. If you are looking for a keto diet recipe for weight loss, you're definitely at the right place.
Subscribe To My Channel For More Videos on Keto Diet Recipes:
Here is a recipe for making Keto Almond Protein Breakfast Balls:
IF YOU WANT TO GET A CUSTOM KETO DIET OR DESSERT MADE UP FOR YOU, CLICK HERE –
The Ingredients:
60-gram pea protein
1/2 cup almond butter
1 teaspoon ground cinnamon
1/2 teaspoon vanilla extract
1/4 cup unsweetened shredded coconut
1/4 cup almonds, crushed
1/4 cup golden flaxseed meal
2 tablespoon coconut oil, as needed
The Preparation:
1. Measure out and prepare all the ingredients.
2. In a bowl, combine all of the ingredients together. Add in the coconut oil if the mixture is too dry. Stir to combine well.
3. Roll the mixture into small spoon-sized balls. Set on parchment paper. Let chill in the refrigerator for at least 2 hours.
4. Then serve and enjoy!
The Serving:
This makes a total of 4 servings of Keto Almond Protein Breakfast Balls. Each serving comes out to be 428 calories, 34.9g fat, 4.7g net carbs, and 21.7g protein.
IF YOU WANT TO GET A CUSTOM KETO DIET OR DESSERT MADE UP FOR YOU, CLICK HERE –
======================================================================
Affiliate Disclaimer:
Clicking links or purchasing products recommended on this page may generate income for this website from affiliate commissions and you should assume we are compensated for any purchases you make.
======================================================================
#ketodiet #dessert #ketodietplanforweightloss
#keto, #ketorecipes, #ketofood, #cooking, #cheapketo, #dietketo, #ketomeals, #ketodietforbeginners, #ketodietplan, #ketocookingchannel, #ketocookingyoutube, #lazyketorecipes, #whatisketo, #ketoflu, #ketotips, #ketoguide, #ketodieta, #ketodietmistakes, #ketosnacks, #howtodoketo, #biggestketomistakes, #howtoeatketo, #startingketo, #ketomealprep, #ketomistakes, #7ketomistakes, #5ketomistakes, #ketoweightloss, #howtostartketo, #vegketo, #ketodietmealplan, #ketodietrecipesforbeginners #luciferdrinksdessert #cookingovenchocolatedessert #dessert #dessertrecipes #easydessertrecipes #drawmatchadessertj8qrkotcgoa #dessertmukbang #dessertperson #dessertrecipeseasyathome #proteindessert #highproteindessert #proteindessertrecipes #vegandessertrecipes #vegandessert #mealsforketodiet #lowcarbdiet #ketomealprep #kissmyketo #highfatdiets #lowcarbdiets #ketocookies #ketopizza #ketobreakfast #lowcarb
As was inspired by:
---
How to make keto almond protein Breakfast balls Please kindly do subscribe to this Channel and turn on the notification Bell so that you will be the first to Know whenever we upload a new video Also show some love by liking this video So that it can be recommended to as many People as possible that need to see it Thank you The ingredients 60 Grand pea protein Half cup almond butter 1 teaspoon ground cinnamon Half teaspoon vanilla extract 1 4 cup unsweetened shredded coconut 1 4 cup almonds crushed 1 4 cup golden flaxseed meal 2 tbsp coconut oil as needed The preparation One measure out and prepare all the Ingredients 2. in a bowl combine all of the Ingredients together add in the coconut Oil if the mixture is too dry stir to Combine well 3. roll the mixture into small spoon Sized balls set on parchment paper let Chill in the refrigerator for at least Two hours Four then serve and enjoy The serving This makes a total of four servings of Keto almond protein breakfast balls each
Serving comes out to be 428 calories 34.9 grams fat 4.7 grams net carbs and 21.7 grams protein If you wanted to get a custom keto diet Or dessert made up for you Just click on this link in the Description below this video Also please kindly do like this video so That it can be shown to as many people As possible that need to see it thank You