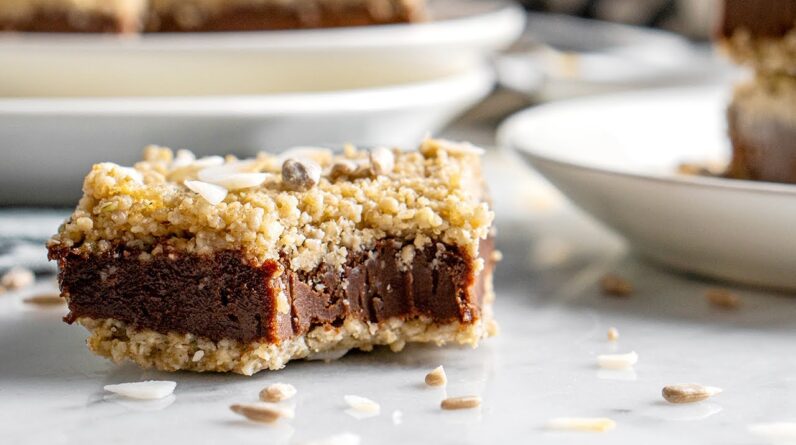 This post may contain affiliate links which means I may receive a commission for purchases made through links.  Learn more on my Private Policy page.
If you're looking for a delicious and indulgent snack or dessert that won't compromise your keto diet, look no further than these chocolate stuffed granola bars. Packed with wholesome ingredients and rich, chocolatey flavor, these bars make for the perfect sweet treat that's as satisfying as it is guilt-free. So, why not treat yourself and try out these decadent keto-friendly granola bars?
Indulge in This Decadent Snack/Dessert: Keto Chocolate Stuffed Granola Bars
Do you have a sweet tooth but are watching your carb intake? Fear not! These keto chocolate stuffed granola bars are the perfect snack or dessert option, and they come packed with good fats and protein to keep you full and satisfied.
Introduction
The best part about these bars is that they are made from low-carb ingredients without any refined sugars. They feature a granola layer made by blending dry and wet ingredients and a chocolate layer made by heating coconut cream and adding carb-friendly sugars before melting baking chocolate. Assemble them by placing half of the granola mixture on the bottom of a lined baking tray, layer the chocolate mix on top, then add the remaining granola mixture before freezing for an hour. The result? A sensational blend of chocolatey sweetness and satisfying crunch that is bound to become your new favorite snack.
Here is how you can make your very own keto chocolate stuffed granola bars at home.
Ingredients:
For the granola layer:
1 cup of almond flour
1 cup of unsweetened shredded coconut
1/4 cup of hemp hearts
1/4 cup of chia seeds
1/4 cup of golden flax meal
1/4 cup of unflavored whey protein powder
1/3 cup of coconut oil
2 tbsp of almond butter
1/4 cup of erythritol
For the chocolate layer:
1 cup of coconut cream
1/4 cup of confectioners erythritol
1/4 cup of cocoa powder
1/4 cup of chocolate chips
Instructions:
For the granola layer, first preheat your oven to 350 degrees F. Then in a large mixing bowl, combine all dry ingredients. In another mixing bowl, combine all the wet ingredients.
Combine the dry and wet ingredients and mix well. This will be your granola mixture.
Pour half of the granola mixture into a lined baking tray and press it down evenly.
Then, in a saucepan, mix the chocolate layer ingredients and heat on low heat until everything is melted and combined.
Layer the chocolate mixture on top of the granola layer in the baking tray.
Add the remaining granola mixture on top of the chocolate mixture and press it down evenly.
Freeze the baking tray for an hour or until the granola bars are set.
Once set, slice into 12 bars and enjoy!
Nutritional Information:
Servings: 12
Calories per serving: 324
Fats: 29.4g
Net Carbs: 4.6g
Protein: 7.7g
FAQs:
Can I substitute almond flour with coconut flour in this recipe?
While it may be possible, substituting coconut flour for almond flour may result in a much drier and crumbly texture, so almond flour is recommended.

Can I substitute golden flax meal with regular flax meal in this recipe?
Yes! The golden flax meal is more aesthetically pleasing, but regular flax meal works just as well in this recipe.

How long do the bars last in the freezer?
The bars can last up to two weeks in the freezer, but they are best eaten within the first week of freezing.

Can I use stevia as the carb-friendly sugar in this recipe?
While it is possible to use stevia as a sugar substitute, the texture and taste of the bars may differ from the original recipe, so it is not recommended.

Is there a way to make the bars nut-free?
Yes! Simply substitute the almond flour and almond butter with sunflower seed flour and sunflower seed butter, respectively.
Conclusion
Indulging in a sweet snack or dessert doesn't have to break your diet, especially when you can make your keto chocolate stuffed granola bars at home. With only a few ingredients, you can satisfy your cravings and keep your carb intake low. For more keto-friendly recipes and diet tips, visit Ruled.Me and follow us on social media for more tasty food ideas.