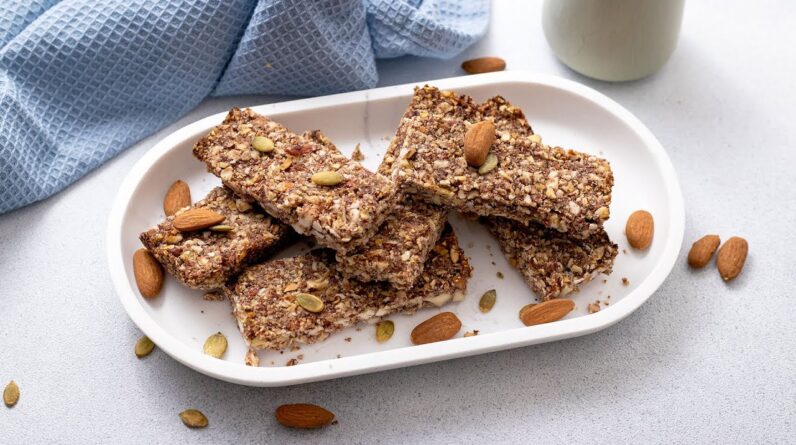 This post may contain affiliate links which means I may receive a commission for purchases made through links.  Learn more on my Private Policy page.
Are you on the hunt for a healthy, low-carb snack that satisfies hunger pangs and tastes amazing? Look no further than these delicious keto vegan granola bars! Making your own granola bars at home is easy, affordable, and allows you to customize the flavor and ingredients to your liking. In this post, I'll walk you through step-by-step instructions on how to whip up a batch of these tasty treats that are sure to become a pantry staple. So, let's get started!
How to Make Delicious Keto Vegan Granola Bars at Home
Are you looking for a delicious, healthy snack that you can enjoy on the go? Look no further than keto vegan granola bars! These bars are packed with protein, healthy fats, fiber, and essential vitamins and minerals. Plus, they're easy to make at home and customizable to your tastes.
Introduction
Keto vegan granola bars are perfect for anyone who is looking for a nutritious snack that's also vegan, gluten-free, and low-carb. They can be enjoyed as a snack on-the-go, as a post-workout treat, or as a healthy dessert. Plus, making your own granola bars at home is a fun and rewarding experience that allows you to control the ingredients and flavors.
Here's how to make delicious keto vegan granola bars at home.
Ingredients
The ingredients for these bars are simple and easy to find. Here's what you'll need:
½ cup roasted almonds
½ cup pumpkin seeds
1 cup flaxseed meal
½ cup roasted pecans
½ cup erythritol (or your preferred sweetener)
1 tsp vanilla extract
½ cup almond milk
1 tsp xanthan gum
Instructions
Preheat your oven to 325°F (165°C) and line a baking dish with parchment paper.
In a large mixing bowl, combine the roasted almonds, pumpkin seeds, flaxseed meal, and roasted pecans. Mix well.
In a separate mixing bowl, whisk together the erythritol, vanilla extract, almond milk, and xanthan gum until well combined.
Pour the wet ingredients into the dry ingredients and mix well until fully combined.
Transfer the mixture to the lined baking dish and press it down firmly with a spatula.
Bake in the preheated oven for 25-30 minutes, or until golden brown around the edges.
Remove from the oven and let cool completely before slicing into bars.
Optional: garnish the bars with whole seeds or melted dark chocolate for an extra special touch.
Nutrition Facts
Each serving of these keto vegan granola bars contains approximately 320 calories, 26.5g fat, 5.8g net carbs, and 9.8g protein. Depending on your personal dietary needs, you may want to adjust the serving size or ingredients accordingly.
FAQs
Can I use different nuts or seeds in this recipe?
Absolutely! Feel free to experiment with different nuts, seeds, or even dried fruits to customize the bars to your liking.

How long do these bars stay fresh?
These bars can be stored in an airtight container at room temperature for up to one week or in the refrigerator for up to two weeks.

Are these bars gluten-free?
Yes! All of the ingredients in this recipe are gluten-free.

Can I make these bars without the sweetener?
Yes! You can omit the erythritol or substitute it with another sweetener of your choice, such as stevia or monk fruit sweetener.

Can I make these bars without the xanthan gum?
While the xanthan gum helps to bind the ingredients together, you can omit it if you don't have it on hand. The bars may be slightly crumbly but will still taste delicious.
Conclusion
Keto vegan granola bars are a delicious and nutritious snack that you can make at home with just a few simple ingredients. Packed with healthy fats, fiber, and essential nutrients, these bars are ideal for anyone who is looking for a clean and healthy snack option. So why not give them a try today?
Remember, you can always experiment with different ingredients and flavors to find the perfect combination that works for you. And be sure to check out the Ruled.Me website for more delicious keto recipes and tips.