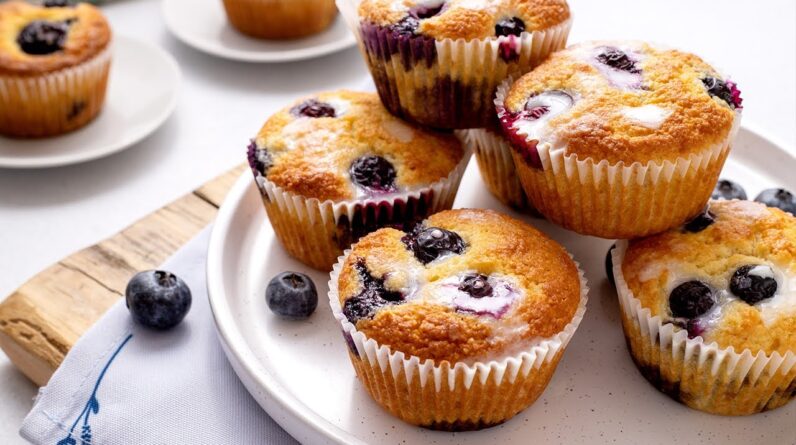 This post may contain affiliate links which means I may receive a commission for purchases made through links.  Learn more on my Private Policy page.
Looking for a delectable treat that's Keto-friendly? Look no further than these mouth-watering blueberry muffins! Made with wholesome ingredients and topped with a delectable glaze icing, these muffins are the perfect choice for those who want to indulge in a guilt-free snack. Whether you're following a keto diet or simply looking for a delicious treat, this recipe is sure to satisfy your cravings. So, put on your aprons and get ready to bake the best blueberry muffins you've ever had!
Introduction
If you're on a keto diet, you can still satisfy your sweet tooth with these delicious keto blueberry muffins. This recipe is perfect for those who want to indulge in a sweet treat while maintaining low-carb and high-fat intake. The recipe is made with almond flour, butter, blueberries, and heavy cream, which are staple ingredients in keto baking. In this article, we'll share the recipe for these scrumptious blueberry muffins and provide some tips on how to adjust the recipe to suit your personal taste. So, let's dive into the world of keto baking!
Ingredients
2 cups almond flour
1/2 cup butter, softened
1/2 cup blueberries
1/2 cup heavy cream
1/4 cup granulated erythritol
1 large egg
1 1/2 tsp baking powder
1 tsp vanilla extract
Pinch of salt
Directions
Preheat the oven to 350°F (175°C). Line muffin tins with paper liners.
In a large mixing bowl, cream the butter and erythritol together until light and fluffy.
Add the egg and vanilla extract to the mixture and continue to beat until well combined.
In another bowl, whisk together the almond flour, baking powder, and salt.
Gradually add the almond flour mixture into the butter mixture alternating with heavy cream until all ingredients are incorporated.
Gently fold in the blueberries.
Fill the muffin cups with batter, and bake for 20-25 minutes, or until golden brown.
Let the muffins cool in the tin for 10 minutes before transferring them to a wire rack.
Tips for Personalization
Use raspberries instead of blueberries for a variation in the recipe.
Try using coconut cream instead of heavy cream for a slightly different flavor.
Add a few drops of lemon juice to the batter to give the muffins a zesty twist.
Instead of vanilla extract, use almond or coconut extract to change up the flavor profile.
Nutritional Information
One serving, which is one muffin, has 231 calories, 20.4g fat, 4g net carbs, and 7g protein.
Conclusion
If you are looking for a keto-friendly treat that satisfies your sweet cravings, then these blueberry muffins are perfect for you. They are simple to make and taste great, so why not give it a try? Remember, you can always adjust the recipe to suit your personal taste preferences. Don't forget to check out ruled.me for a comprehensive guide to the keto diet and some other delicious keto recipes.
FAQs
How should I store the keto blueberry muffins?
It is recommended to store the muffins in the fridge in an airtight container if you want them to last for up to a week.
Can I use frozen berries instead of fresh ones?
Yes, you can use frozen blueberries in this recipe but make sure to thaw and drain them first to prevent additional moisture in the recipe.
What alternatives can I use instead of erythritol in the recipe?
You can try xylitol or stevia instead of erythritol.
How many muffins does this recipe make?
This recipe makes 8 muffins.
Can I use different types of flour instead of almond flour?
It is recommended to use almond flour in keto baking, but you can try coconut or hazelnut flour as an alternative.