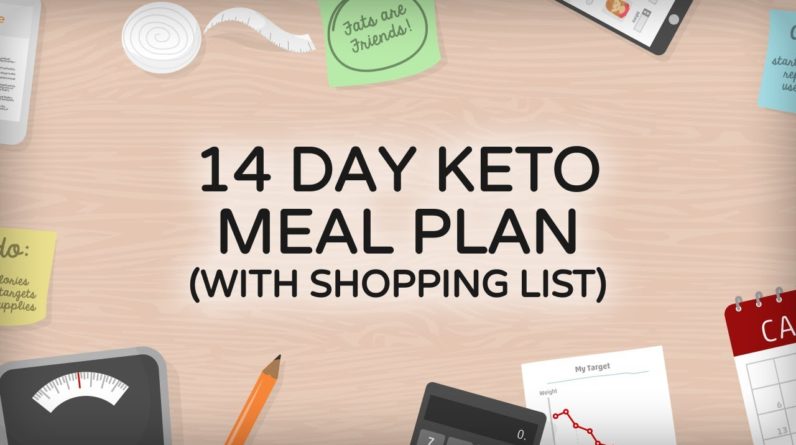 This post may contain affiliate links which means I may receive a commission for purchases made through links.  Learn more on my Private Policy page.
Nothing helps you feel prepared for a big
change to your diet like a good plan. Plans help you feel more in control: There
is less confusion, and less chances to slip up, as you follow a well-laid path leading
you toward your goals. Whether you're just starting out on your keto
journey, or you need a bit more structure in the diet you've been following for awhile
now, this plan is here to help put the confidence back into the next two weeks of your food
choices. Many people in our keto community have shared
that they find the first few weeks to be especially tough, as they adjust from their old habits
to their new lifestyle. To help make that transition easier, we've
created a 14-day ketogenic diet plan for you to follow along with. Our meal plan is based on the average macros
of 1500 calories, so you may need to adjust slightly for your own macros.
The full meal plan, which includes a shopping
list, is available in a PDF that you can download and print out. A word on cooking and meal preparation before
we get started: We know you may not be able to invest a lot of time in cooking and preparing
meals, so we've designed the plan to use leftover recipes, but the plan still has enough variety
to stop you from getting bored. Remember to stock up on clear food containers
that you can easily label and stack in the fridge! When storing salads as leftovers, it's best
to pack up the veggies and greens separately from the meat and dressing to prevent wilting.
Look ahead in the plan to make sure you're
stocked up on ingredients and can prep some things in advance. When putting your shopping list together,
look for ways to keep costs down, like buying salad greens in bulk, cutting back or reducing
the number of spices used, or using just one type of oil and one type of vinegar instead
of a variety. Ready to take a look at your trusty two-week
plan? Let's get started! Breakfast will consist of a savory Sausage
Gravy and Biscuit Bake, which is a keto update on a Southern classic. The biscuits are made with a base of almond
flour, xanthan gum and baking powder, enriched with frozen butter and egg whites. All that is baked on top of a savory mix of
pork breakfast sausage and gravy. This recipe makes a large batch, which is
great, because we'll be eating leftovers of it for a few days down the line.
For lunch, we'll have an Oven Roasted Caprese
Salad. While traditional Caprese salad is just cheese,
tomatoes and basil, we add a hefty helping of fresh spinach, which is packed with fiber,
magnesium, and potassium. This can help combat the keto flu. The secret ingredient in this salad is the
brine from the fresh mozzarella package. Add it to the pesto for an extra pop of rich,
salty goodness. This meal makes great leftovers, because the
longer it marinates, the more flavor it develops! At dinner time, dig in to a Buffalo Chicken
Jalapeno Popper Casserole. If you'd ever like more veggies at dinner,
feel free to add a small side salad or steamed cruciferous vegetables, like cauliflower or
broccoli, cabbage fried in a little butter, or roasted asparagus. Looking ahead into the days to come, don't
forget to set aside two portions of the casserole for days 3 and 5! On Day 2, we wake up in the morning with Keto
Coffee, which is made with black coffee and coconut oil, MCT oil, butter, heavy cream,
or a combination.
We suggest using 1 tablespoon butter, 1 tablespoon
MCT oil, and a half tablespoon of heavy cream. If you find you are sensitive to fats, try
starting with less MCT oil and more heavy cream to avoid digestive issues. A Simple Bacon and Broccoli Salad is on the
menu for lunch. This dish is so easy and delicious, with just
six ingredients but tons of flavor. If you're in a rush, or maybe you don't have
all the ingredients on hand, you can just use mayonnaise for the dressing. But it'll have so much more flavor if you
add a dash of apple cider vinegar and erythritol to the mix. For dinner, it's a keto twist on a comforting
classic dish: One Pot Shrimp Alfredo. Our version of alfredo sauce is a bit more
simplified and healthier than the original.
Just a little butter, cream cheese, half n'
half, and Parmesan makes this sauce quick and easy. Once you've mastered the sauce recipe, you
can use it to dress up all sorts of veggies. Feel free to add a extra leafy greens or broccoli
to the dish if you'd like more food at dinner. Keep the leftovers in an airtight container
for dinner again on Day 6. This starts as an easy one, using leftovers
from our meals on Day 1. Heat up the Sausage and Gravy Bake in the
oven or microwave, and enjoy the Oven Roasted Caprese Salad at lunch. Buffalo Chicken Jalapeno Popper Casserole
at dinner is best re-warmed in the oven at 350 degrees Fahrenheit for about 15 minutes. On Day 4, we see some new dishes: At breakfast,
try Jalapeno Popper Egg Cups. We love this recipe, for its combination of
bold, spicy, creamy flavors.
The bacon acts as a little collar around the
egg mixture, so they really are like cups that are tidy and easy to eat on the go. They also keep very well and make fantastic
leftovers, which will come in handy on Days 6 and 8. Lunch is a 5-Minute Marinated Feta and Sundried
Tomato Salad. Add a handful of leafy greens – a great
way to squeeze in a few extra veggies. This recipe truly does take just five minutes
and five steps to make one of the tastiest keto lunches. The feta and sundried tomatoes are perfectly
complementary, and the dressing, made with oil with dried herbs and lemon, brings all
the flavors together. This is another salad which just gets better
as it has a few days to marinate.
Dinner is one of our all-time favorites: Keto
Cauliflower Pizza Casserole with Pepperoni. This is sure to satisfy your pizza and mac-and-cheese
cravings all at once. Even if you're not a huge fan of cauliflower,
we bet you'll still love this one, as the cauliflower disappears in the rich blanket
of sauce and cheese. It also makes great leftovers. Just cover the pan with a lid or foil and
pop it in the fridge. We'll be enjoying it again on Day 7. On Day 5, we'll have the Sausage and Gravy
Bake leftovers at breakfast so you can get up and go in no time. At lunch, we'll make a Vegetarian Keto Club
Salad. A great example of looking ahead and planning
for future meals is to wash and prep some extra romaine lettuce and cherry tomatoes
for tomorrow! The club salad is a fresh vegetarian take
on a club sandwich, with hard-boiled eggs, cheddar cheese, tomatoes, cucumbers and romaine,
topped with a creamy, savory dressing. If you take a little time in advance to hard-boil
the eggs and mix the dressing, the Club salad comes together in just a minute or two.
Then, for dinner, the Buffalo Chicken Jalapeno
Popper Casserole comes back from two nights ago for a victory lap. A simple salad mixed into the sauce of the
casserole is a great way to add some crunch and fiber to the meal. With no extra dressing required, you won't
add many additional calories to the day. Today begins with Jalapeno Popper Egg Cups
from Day 4, which warm up nicely in the microwave, and they're even great served cold. Lunch is an Avocado BLT Salad with sweet onion
bacon ranch dressing. Putting this together will be a total breeze
if you've pre-prepped the lettuce and tomatoes the day before. If time allows, fry up the bacon and make
the dressing the night before, too.
You can customize the dressing to be a bit
thinner, if you prefer, by stirring in a tablespoon of water. Another great meal prepping tip is that, anytime
you're cooking a recipe that calls for bacon, to fry up a bit extra and save all the fat. It will always come in handy to enrich future
sauces and salad dressings! Also, you'll want to save some salad for lunch
on Day 8.
One Pot Shrimp Alfredo leftovers from Day
2 mean that dinner is on the table in minutes flat, tonight. For best results, warm the leftovers gently
on the stovetop. It's Day 7 and you're nearly half-way through
the 2-week plan! We'll rely on our work from the past few days
and finish up our breakfast leftovers as we prepare to incorporate some fasting in week
2. That means there's no actual cooking today. The Sausage and Gravy Bake is for breakfast,
5-Minute Marinated Feta and Sundried Tomato Salad (now wonderfully extra-marinated) is
for lunch, and the Keto Cauliflower Pizza Casserole is for dinner.
To reheat the casserole, serve yourself a
portion and put it into a small oven-proof dish, then warm it in a 350 degree oven for
10 to 15 minutes. Or, you can just pop it in the microwave! Great job getting through Week 1! Now, Week 2 will start to incorporate some
fasting, which means even less time spent cooking and the added benefits of intermittent
fasting! Make sure to drink lots of water in the morning,
and if needed, you can also drink black coffee or unsweetened tea. On Day 8, we'll use the last of our week 1
leftovers so there's no food wasted. For breakfast, we'll have Jalapeno Popper
Egg Cups and for lunch Avocado BLT salad. For dinner, it's time to try another new recipe:
Nacho Chicken Casserole, a Southwestern-inspired version of Shepherd's Pie.
It strikes a great balance of flavors, with
a top layer of cauliflower, which is blended with cheese to achieve a consistency like
mashed potatoes. This helps keep the casserole from being too
heavy. One way to cook the recipe a little faster
is to pre-cook the cauliflower while you're browning the chicken. This brings the total cooking time down to
just about 30 minutes. And, looking ahead, this casserole will also
be your easy, quick dinner on Day 10. Day 9 begins with fasting, which we break
at lunch with a bright, colorful Sesame Salmon Salad. The dressing for this delicious dish uses
liquid amino acids instead of soy sauce, which makes it a great choice for anyone avoiding
soy. This salad will come back as leftovers on
Days 11 and 13, so be sure to keep the salad and dressing separate! At dinner, we have not one, but two dishes
to enjoy: Sausage & Kale Soup for an entree, and velvety Keto Mocha Mousse for dessert! The soup is inspired by Italian flavors and
is packed with kale, cauliflower and Italian sausage with a bit of carrot for flavor.
If you don't like spicy foods, you can add
less or no red pepper flakes, and you can also customize the amount of salt you use. This, like most soups, improves over a few
days, which is great, because it will be dinner again on Days 11 and 13. For dessert, the Keto Mocha Mousse is a decadent
melt-in-your-mouth treat. The secret is whipped cream: This makes it
so wonderfully light and fluffy. Keep in mind that the mousse needs a few hours
to set in the refrigerator. If you don't enjoy coffee flavors, you can
omit the instant coffee powder in the recipe and it will become a chocolate mousse.
And, you'll get to enjoy this dessert two
more times, on Days 11 and 13. On Day 10, we also fast through the morning,
and then for lunch we enjoy a Keto Meaty Mediterranean Lunch Bowl for lunch, with ground chicken
meatballs served over fresh veggies with a sun-dried tomato and basil dressing. The binder in our keto meatballs is Parmesan
cheese, which can be pretty salty, so beware when adding additional salt! We see this again for lunch on Days 12 and
14. At dinner, heat up Nacho Chicken Casserole
leftovers in the oven or the microwave. Days 11 and 12 are simple repeats of Days
9 and 10. So on day 11, we fast at breakfast, have Sesame
Salmon Salad for lunch, and Sausage & Kale Soup for dinner, with Keto Mocha Mousse for
dessert. Day 12 also begins with a fast, with the Keto
Meaty Mediterranean Lunch Bowl at lunchtime, and leftovers from the Nacho Chicken Casserole
for dinner. Enjoy a break from cooking! Consider using your time out of the kitchen
to create your own version of a meal plan based on recipes you enjoyed. If it works into your schedule, you can even
prep some meals looking ahead to the following week.
Day 13 revisits the Sesame Salmon Salad for
lunch, though to switch things up, you can swap in fresh kale or spinach for the bed
of lettuce. Dinner is Sausage & Kale Soup and Keto Mocha
Mousse. The soup can be heated on the stovetop or
in the microwave. Can you believe we've made it to the 14th
day already? The final day of our 2-week plan starts with
fasting in the morning. The Keto Meaty Mediterranean Lunch Bowl is
back for lunch, and dinner is a delicious, satisfying Keto Tuna Salad with Pesto. This recipe comes together in less than 10
minutes, and you can double or triple the recipe to have a great lunch on hand for the
next few days.
Throughout the 14 days, you can see how we've
combined recipes and smartly used leftovers to keep your meals interesting and tasty,
while minimizing the number of ingredients you need to have on hand, and reducing the
amount of time spent prepping and cooking. With a little practice, you'll get the hang
of the keto diet, and then you can repeat this plan if you'd like, or start to incorporate
other foods into it as long as it fits within your macros. Thanks so much for watching. Don't forget that you can download our 14-day
ketogenic diet plan in the description of the video and let us know what you think in
the comments! Visit Ruled.me for more keto recipes, meal
planning tips, guides and support.