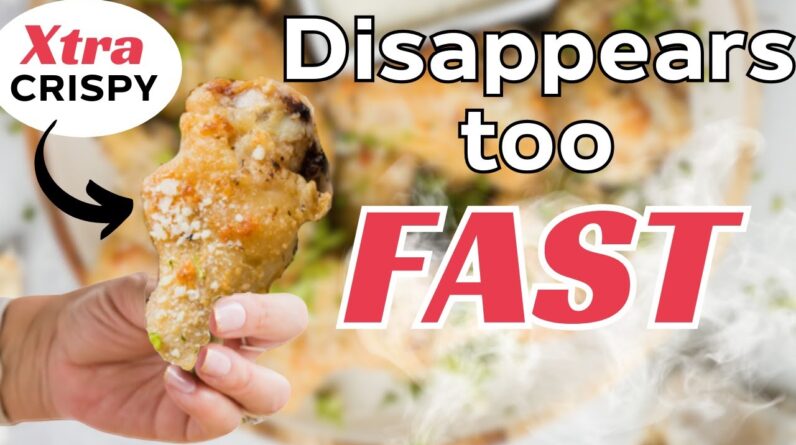 This post may contain affiliate links which means I may receive a commission for purchases made through links.  Learn more on my Private Policy page.
Do you crave perfectly crispy chicken wings that are deliciously golden brown on the outside and juicy and tender on the inside? Look no further! In this blog post, we will reveal the ultimate method to achieve ultra-crispy chicken wings that will leave your taste buds wanting more. With our step-by-step guide, you'll be able to impress your family and friends with your culinary skills in no time. So, let's dive in and discover the secret to making the best crispy chicken wings you've ever tasted!
The Method to Achieve Ultra Crispy Chicken Wings You Need to Know
Introduction ##
Chicken wings are one of the most popular foods eaten during gatherings or parties, and what makes them a fan favorite is their crispiness and flavor. However, achieving perfectly crispy chicken wings can be a challenging task, especially if you're watching your calorie intake and don't want to deep-fry the wings in oil. In this article, we'll share with you a method to make ultra-crispy chicken wings that don't involve frying, and a recipe for a delicious garlic parmesan sauce to go with them.
How to Make Ultra-Crispy Chicken Wings
To make ultra-crispy chicken wings, you don't need much more than baking powder and some spices, and a bit of oven time. Here's how you can do it:
Preheat the oven to 450°F.
Pat your chicken wings dry with paper towels and place them in a ziplock bag.
Add two tablespoons of baking powder, one tablespoon of salt, a teaspoon of garlic powder, and a teaspoon of black pepper to the bag.
Shake the bag until the chicken is coated evenly.
Place the chicken wings on a wire rack over a baking sheet.
Bake the chicken wings in the preheated oven for 15 minutes. Then flip the wings and bake for another 15 minutes until they're golden brown and crisp.
While the chicken wings are baking, prepare your sauce.
Garlic Parmesan Sauce Recipe
This garlic parmesan sauce is perfect for adding a bit of extra flavor to the already crispy chicken wings. Here's how you can make it:
1/2 cup of melted unsalted butter
2/3 cup grated parmesan cheese
1 tablespoon of minced garlic
Mix melted unsalted butter, minced garlic, and grated Parmesan cheese in a bowl.
Once the chicken wings are done baking, use a pastry brush or a spoon to coat them with the sauce.
Place the wings back in the oven for another 5 minutes to let the sauce soak in and form a crispy crust.
Once the wings are done, serve them up hot with extra sauce on top if desired, and a sprinkle of chopped parsley.
FAQs
Q: Can I use frozen chicken wings for this recipe?
A: It's not recommended to use frozen chicken wings as they will release a lot of moisture as they thaw, which can affect the crispiness of the wings.
Q: Can I use other spices for the chicken wings?
A: Yes, you can use any spices that you prefer or have in your pantry, like paprika, cumin, or oregano.
Q: Can I use this method for other types of chicken?
A: This method is specifically for chicken wings, but you can use it for other chicken parts like drumsticks or thighs.
Q: Can I make this recipe ahead of time?
A: The chicken wings are best served immediately after baking, but you can prepare the sauce and mix the spices ahead of time to save yourself some prep time.
Q: Are baked chicken wings healthier than fried ones?
A: Yes, baking chicken wings without oil is a healthier alternative to deep-frying them, as it significantly lowers the calorie and fat content.
Conclusion ##
Making ultra-crispy chicken wings is no longer a challenge with this easy-to-follow method that doesn't involve deep-frying. With a few simple ingredients, a bit of time in the oven, and a delicious garlic parmesan sauce, you can make crispy, flavorful chicken wings that your guests will rave about. Don't forget to serve them with your favorite dip and some celery sticks on the side. Bon appétit!