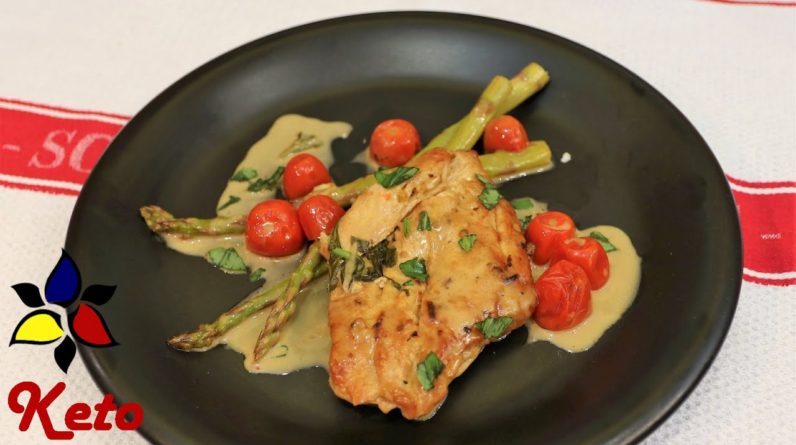 This post may contain affiliate links which means I may receive a commission for purchases made through links.  Learn more on my Private Policy page.
Welcome to keto meals and recipes dot com. Today, I will be making my super easy lemon butter chicken, one pan meal. This complete, very easy meal can be made in less than 30 minutes. That is because there is minimal prep. To complete this very tasty chicken dinner, I love serving it especially with my walnut bread, which is very dense, and the walnut flavor goes especially well when dipped into the creamy lemon butter sauce. Before I forget, as always, the link for the walnut bread and any other recipe I mentioned will be provided in the description below.
At the end of the video, I will also provide an alternative side dish and the macro ratio for this complete meal. Now, the macro nutrient ratio for the lemon butter chicken is 3.4 to 1 with 7.5 grams of total carbs, 1.8 grams of dietary fiber, resulting in 5.5 grams of net carbs per serving. As I stated earlier, there's very little prep needed for this recipe. The few steps that you have to do is to trim the white woody parts off the asparagus, zest and squeeze your lemon, cut the cherry tomatoes in half, and rough chop your bay leaves. And that's all there is to the prep. This recipe is also very delicious if you use chicken thighs with bone in and skin on, but today's Demonstration will be shown using skinless boneless chicken breasts. To make cooking easier, and faster, I butterfly cut the chicken breasts so that the thickness is more even and there's no big lumpy part which will take longer to cook.
The next thing I do is combine the salt and lemon zest This will be the seasoning I will be using for the chicken. And before applying the seasoning, I also pat dry the chicken. Then I sprinkle on the lemon zest/salt mixture on both sides of either the chicken breast (as in this video) or the chicken thighs. Also, using chicken thighs instead of chicken breasts reduces the total cost of this recipe, making it very budget-friendly. Take your pot and heat it over medium heat. Add the oil and, when the oil begins to sizzle, place the seasoned chicken pieces into the pan. Then sear that side until it is golden brown and the edges of your meat are beginning to look white.
And when your first side has been seared, flip the piece of meat and sear the second side until it, too, is golden brown. Then reduce your heat to medium-low. Continue cooking in this way for about five minutes and then turn and cook the other side for three to five minutes, or until the thickest part is nicely done. But please be careful and don't overcook this chicken because it will become very dry and tough. And I'd also like to remind you that my cooking times are a guideline. Not an absolute direction. You have to use your judgement depending on the kind of meat that you're using, breast or thigh, and how thick your pieces are. When your chicken pieces are done remove them from the pan and set them aside for a moment.
And now we are going to make the sauce in the same pan we used to make the chicken. So, to the pan add the butter, and when the butter is melted reduce the heat to low. Then add the grated garlic and stir and cook for about one minute, or until you can start smelling the garlic. Then add lemon juice, cream, add the chicken stock, red pepper flakes, cherry tomatoes, and the asparagus, chopped basil. Just toss things around so that all the ingredients are well combined and coated. Then continue cooking until the asparagus are soft, but still a little bit raw, or al dente. Test your asparagus. Then put the chicken pieces and any of the juice on your plate back into the sauce. Cook everything together for about one to two minutes to warm up the chicken pieces. And drizzle the sauce over the chicken as it is heating. Remember the chicken is already hot. You're just heating it up and allowing the flavors to combine.
So don't overcook, because the asparagus will go mushy. Now that your recipe is done, just turn off the stove element. And you are ready to serve and enjoy this recipe. Depending on your dietary and caloric requirements, each serving can be a complete meal as it is or, if you want an additional side dish to go with this, Serve a slice of my hearty Keto Walnut bread, which is egg free and dairy free.
Here's the macro chart if you incorporate one slice of my keto bread with the lemon butter chicken. Or, if you don't want to use my Keto Walnut Bread, you could make either the Keto Hamburger Buns, or my Easy Keto Buns and Rolls, and use these buns to sop up the delicious sauce. Or, if you prefer not to have bread, alternatively, make my buttered sauteed cauli rice as a side dish. I don't have a written recipe for this cauli rice, so here it is: I use 100 grams or 3.5 ounces of raw cauli rice, 1 tablespoon of butter, and 1/4 teaspoon of garlic per individual serving. I put this into a hot skillet.
For best flavor and nutrient content, you fry the cauli rice until it's just slightly tender. This should take less than 5 minutes. By the way, this is very similar to my 5-minute Cauli Rice Recipe, which is based on a Chinese stir fry recipe. So you might want to check that out too. And here's the macro chart for the full lemon butter chicken and stir fried cauli rice. I hope this demonstration has been useful, and that you will enjoy my lemon butter chicken recipe. If you're new to my channel and liked this recipe, please consider subscribing.
And to everyone, please forward this recipe to a friend and remember to turn on your notification bell. I have recently added "Buy me a coffee" button, if you would like to support my channel. It would be much appreciated. Thank you. The link for the printable Lemon Butter Chicken will be posted in the description below..