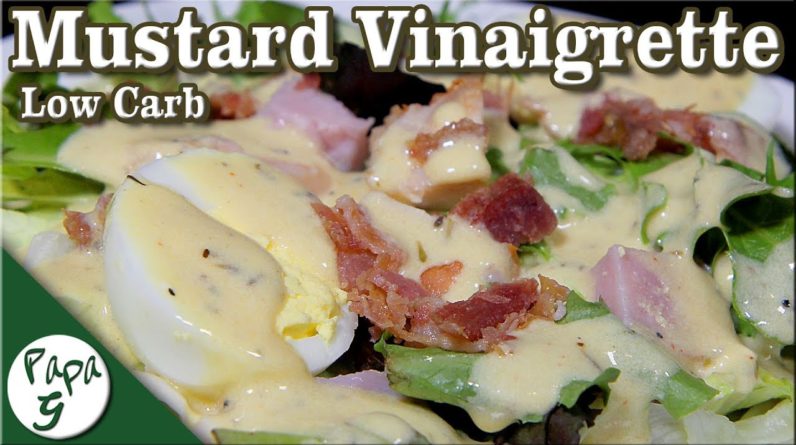 This post may contain affiliate links which means I may receive a commission for purchases made through links.  Learn more on my Private Policy page.
Welcome all! Papa G here. Today is Saucy
Sunday! It's where we focus primarily on low carbohydrate recipes for sauces, condiments,
and dressings. Most of the videos will be short and to the point. Just something to
help add a little flavor to your low carbohydrate diet. Let's get started. For this
week's episode I present my mustard vinaigrette. This is a very easy to make,
low carbohydrate, salad dressing that's packed with flavor, but not carbohydrates. Let me show
you how to make it.
Add 5 tablespoons of Dijon mustard to a mixing bowl; add the
oil of your choice. Here, I'm using extra virgin olive oil – but any oil will work. I
especially like peanut oil for this recipe as well. Add some apple cider
vinegar; a little lemon juice; some Worcestershire sauce; 1/4 cup of sour
cream. Now give a mix with a whisk to blend together. We'll balance the acidity
a bit with two teaspoons of a liquid sugar substitute. Give another quick mix
before we add our spices. Now add some salt; just a touch of cayenne; some garlic
and onion powder; ground black pepper; and finally some thyme. Mix thoroughly until
everything is well blended. Cover and place in the refrigerator for at least 1
to 3 hours to allow all the flavors to come together. Pour over your next salad
and enjoy a great tasting homemade salad dressing that's packed with flavor, but
not carbohydrates. There you have it folks! My low carbohydrate
mustard vinaigrette. A great low carbohydrate salad dressing option. I hope you enjoyed
this video. If you did, please like and consider subscribing. As always, thanks
for watching and I'll see you next time.